Adorable Diaper Cake Bassinet Baby Shower Gift
I loved making this little diaper cake bassinet for a recent baby shower. It's so cute, super easy, and the best part is that it is affordable and homemade. Being able to make something for a friend that is cute and usable is a must for me. I love gifting homemade presents. A diaper cake is always a great idea, and this one, in particular, is super cute and easy to make. Follow the video tutorial below and you'll have this ready in minutes!
Diaper Cake Bassinet
When it comes to babies, there are certain things that everyone thinks of and bassinets are one of them. So why not make this classic item out of diapers for the new parents? Made with things the new baby is going to need, this is definitely a great idea to gift.
I love making diaper cakes and my diaper cake castle, as well as my Minnie Mouse diaper wreath,are some of my favorites, but this bassinet is super special. You can so easily use this sturdy base to tuck in tons of different gifts and make it truly special for the new parents. Babies are a gift in themselves, but these little additions make those first few days just a little bit sweeter and easier.
What Gifts Can I Put in the Bassinet?
Filling a gift basket is tons of fun, and this little bassinet is basically a gift basket so fun to fill with treats for babies and parents. I love stuffing full of diapers and obviously, the stuffed animal is a great addition. Alongside those, you will also want to add in other fun things to make the new parents' lives a little bit easier to manage. Below are a few more ideas that are always popular in diaper cakes.
Stuffed animals, lovies, and soothing bears.
Baby clothes, onesies, dresses, shirts, pants, gowns, and socks.
Hats, gloves, sweaters, and ear muffs for winter weather.
Blankets, bibs, and burp cloths.
Bottles, nipples, teething rings, and baby spoons.
Baby wash, lotion, bubble bath, baby shampoo, washcloths, and towels.
Pampering items for a mom like nail polish, candles, lotion, bubble bath, books, magazines, or candy.
Gift cards to local restaurants, Amazon, or discount stores.
Printed "coupons" for things like a night of babysitting, a day of cleaning, laundry service, or even cooking homemade meals.
What Other Ways Can I Decorate This?
I used a red and black Minnie Mouse theme with ribbons and tissue paper. My granddaughter is in love with Minnie Mouse, so I loved sharing that with others. You can definitely make this fit any character theme, seasonal theme, or even decor theme. Of course, you can also add more decorations to the cake alongside the gifts.
Attach little bobbles and beads to the ribbons. This is perfect for using miniature baby rattles and similar items you might find in baby shower decoration bags. You can also use glitter ribbons, wrap it with larger bows, or even stick a few fake flowers into the basket. Get creative to fit a theme that you prefer. All you have to remember is to use the same basic layout for the overall "cake".
How Can I Wrap This Diaper Cake?
Most often, individuals use diaper cakes as a decoration. Add as a centerpiece to the gift table or even at the welcome book for attendees to see and sign a "guest book" or leave encouraging notes for the new family.
If you want this to be a surprise instead, you can definitely wrap it. I love the idea of using large gift bags for most items, but there is something fun about wrapping this in a baby blanket or just tissue paper so it's easy to grab and rip open in seconds.
Cellophane is another great idea to wrap a diaper cake. Much like a gift basket, this is meant to be seen and not hidden. So, the cellophane wrap keeps it clean and secure while also making it easy to see what is inside.
Supplies Needed
How to Make a Diaper Cake Bassinet
Choose two cardboard boxes for your bassinet. One larger and one medium-sized as they go inside each other.
Wrap both boxes in red tissue paper and secure with tape or glue.
Place the smaller of the two boxes into the larger box on its side and up against one of the sides so it forms a base with a "hood" of sorts on one end.
Line the bottom and inside of the bassinet box with diapers.
Roll 20-25 diapers and secure them with rubber bands.
Divide the diapers up and wrap half of them with a red ribbon around the middle.
Wrap the other half with thick white ribbon then a layer of thin polka dot ribbon.
On the bottom, box add a strip of double-sided tape all the way around the box.
Attach the diapers to the box standing up on their sides. Alternate these so every other one has a different ribbon style.
Wrap a thin white ribbon all the way around the box at the center of the diapers.
Tie a large gingham or pattern bow and attach it at the center front of the box with the thin ribbon and secure.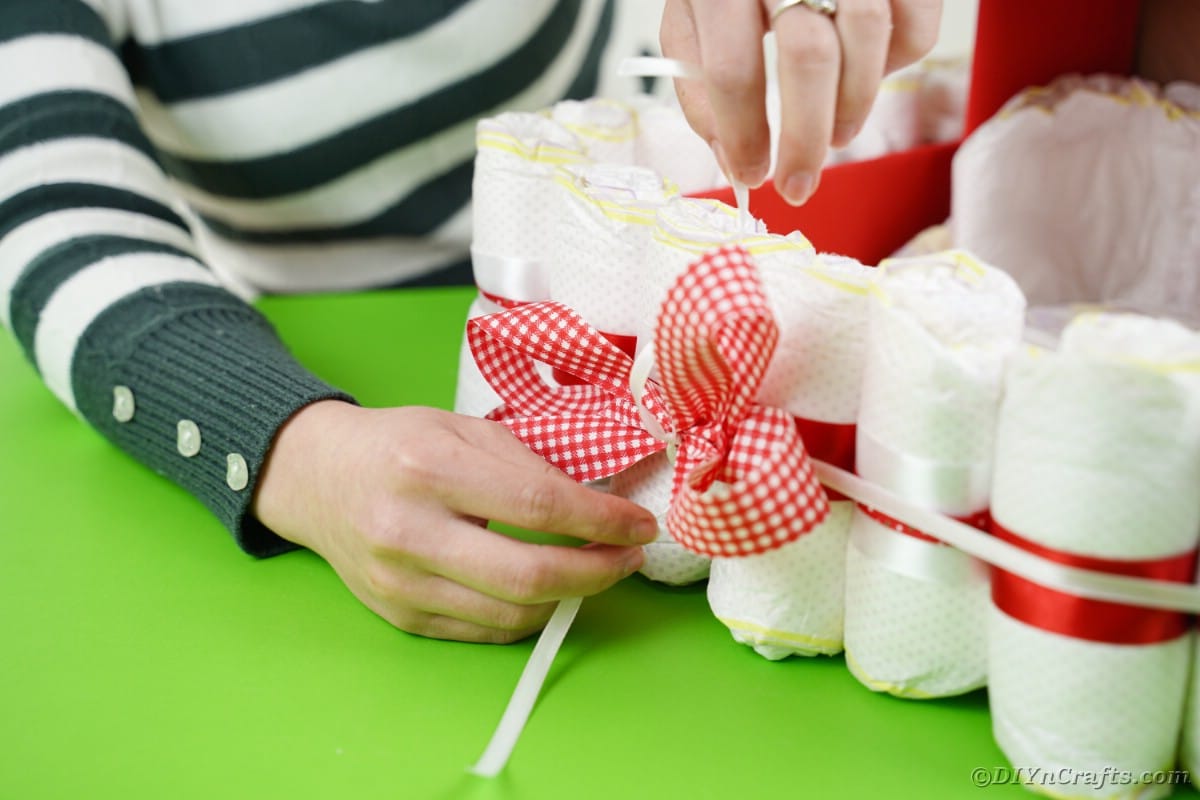 Unfold diapers and add over the top of the "hood" box at the back.
Roll 4 additional diapers and secure with a rubber band then put a fake flower on one end of each diaper.
Place these diapers underneath the bassinet.
Add stuffed animals or other gifts to the inside of the bassinet.
Display or wrap to give as a gift!
More Baby Shower Gift Ideas
This is just one of the many amazing baby gift ideas I have to share with you here. Whether it is a diaper cake you want or something handmade by sewing or crocheting, I have great ideas that make wonderful gifts. Below are some more to share with you!
Crafting Tip

Make this gift even more custom for the new parents and baby by ordering a personalized teddy bear to go inside the bassinet with the new baby name!
Yield: 1
Follow this fun tutorial to create your own adorable diaper cake bassinet baby shower gift in just a matter of minutes!
Active Time
20 minutes
Total Time
20 minutes
Difficulty
Easy
Estimated Cost
$10
Recommended Products
As an Amazon Associate and member of other affiliate programs, I earn from qualifying purchases.
Finished Project Gallery
Fill the inside of your bassinet diaper cake with toys, more diapers, or bath products for the baby.
You can even leave these empty and fill them with party favors to put on the entry table.
Add balloons to the back of the bassinet for an even cuter look for the diaper cake.