Adorable DIY Diaper Cake Train Baby Shower Gift
New parents love diaper cakes and this adorable diaper cake train is the ideal baby gift for any expecting parents. Such a fun idea comes together in minutes and is ideal for setting out on a table as a centerpiece or even displayed in the baby nursery for later down the road. This is sure to become a favorite baby shower gift!
Diaper Cake Train Baby Gift
If you don't know already, I have had a love for diaper cakes for years. Ever since my first child was born, I have found these to be a great gift idea that is super useful. They are super adorable and the new mom and dad always love them.
Since there are so many different kinds of diaper cakes that can be made, I am enjoying sharing them with you. They are easy to tailor to the interests of the parents or to make them coordinate with the nursery theme. If you are looking for more ideas you might also love our diaper cake crane or even this cute Minnie Mouse diaper wreath.
What Can I Add to The Train for Additional Gifts?
One of my favorite parts of making a diaper cake is that you get to tuck in so many other gifts as part of the cake itself. Traditionally I put in a few things for baby and mom, but below is a nice list of ideas you can reference if you are interested in what to add to your train gift.
Use baby receiving blankets, bibs, or burp cloths to wrap around parts of the cake.
Roll up onesies, shirts, pants, socks, or dresses and add them to the cake. 
Use toys like rattles, stuffed animals, play mats, or teething rings as accents.
If for a little girl, decorate with baby bows, barrettes, and headbands.
For little boys or parents who like cars, tuck in toy cars, race car themed items, or other car themed toys.
Pick up diaper cake additions from Etsy to decorate with the party or nursery theme.
Use a variety of widths and colors of ribbon and lace throughout the cake.
Can This Be Made Larger?
The best part of this adorable diaper cake train is that you can make it any size you like. You can easily make it bigger or smaller simply by changing how many diapers you use. If you choose to make it bigger, you'll also want to adjust the base size. Since diaper cakes are not exact, it's easy to adjust to fit your needs.
What Can I Use as the Train Base?
There are a lot of things that can be used as the base of the train. You can use a piece of cardboard (my favorite), or even use a package of baby wipes. I have also seen things like baby and toddler board books as the base of the train. Anything that is sturdy and can support the top of the train can be used.
Supplies Needed
How to Make a Diaper Cake Train
String beads onto an elastic string to create a decoration to go onto the side of the train.  Add a name, different colors, or themes to suit the baby and nursery decor.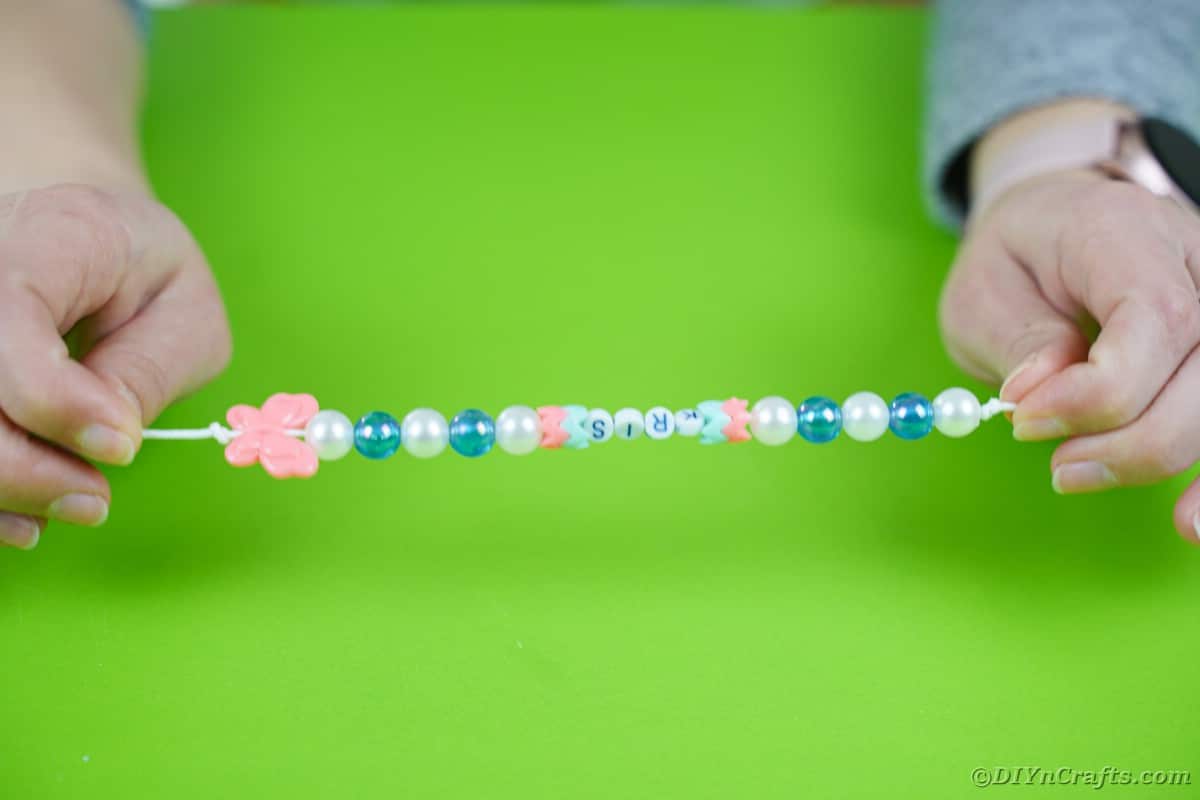 Stack three diapers together overlapping each other slightly and roll into a large bundle then secure with a rubber band around the middle.
Repeat this 3 more times to create 4 large rolls of diapers.
Lay the bundles side by side then wrap with ribbon and secure the ribbon on the bottom with staples, tape, or glue making sure to not glue or puncture the diapers.
Cut a length of cardboard the length and width of the diaper rolls you just combined.
Place the cardboard onto tissue paper and wrap then trim and secure with tape or glue.
Wrap the outside edge of the tissue paper wrapped cardboard with ribbon and secure with glue.
Add 2-3 strips of double-sided tape to the top of the cardboard piece.
Place on top of the stack of diapers from earlier.
Roll 4 individual diapers and secure them with a rubber band. Stack those diapers together and secure them with a rubber band creating a bundle of diapers (square).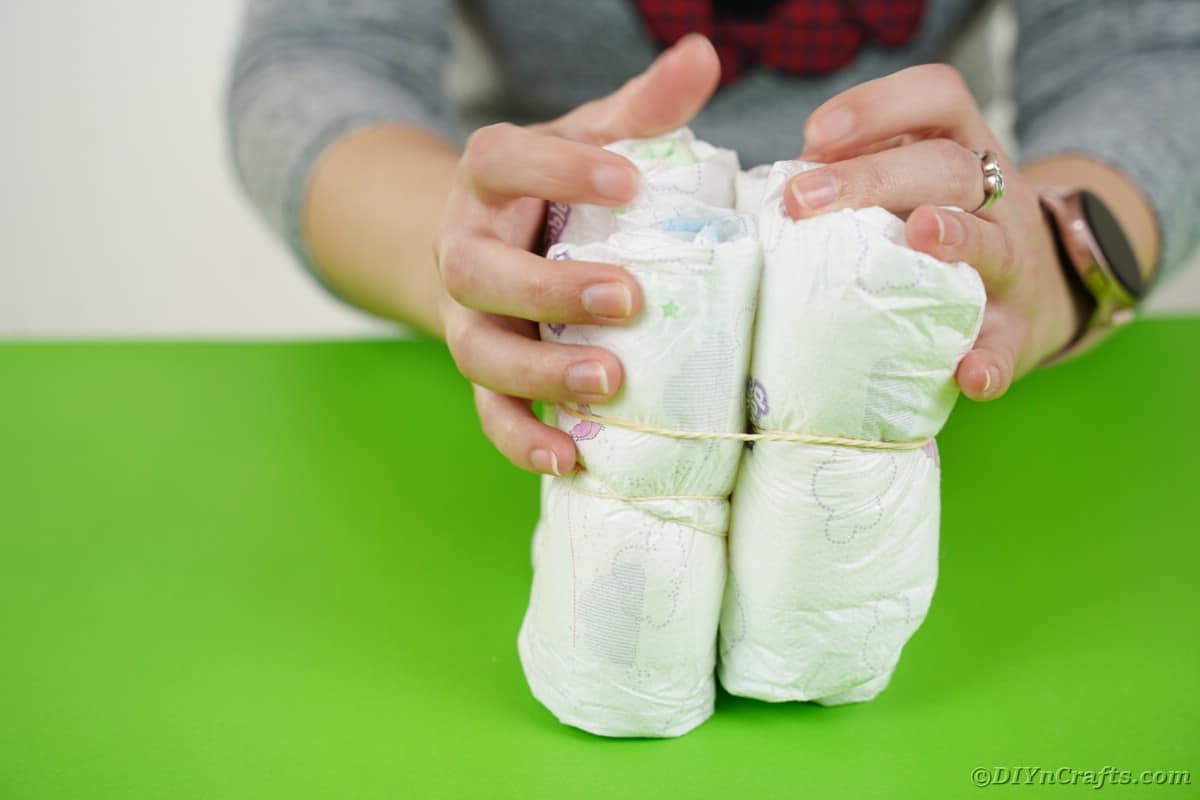 Lay another 2 diapers over each other overlapping, then place those over the top of this 4 diaper square and secure to the front with the rubber band.
Wrap the base of diapers with tissue paper and secure with glue.
Add another length of ribbon around the top of the diaper bundle and secure underneath with glue or tape.
Stack 3 diapers together overlapping each other and roll together then secure with a rubber band. 
Add a length of tissue paper around this roll of diapers and secure with tape or glue.
Next, wrap a length of ribbon around this stack and secure it with glue.
Place 2-3 strips of double-sided tape on top of the cardboard base from earlier and put the single bundle on its side at one end and the other stack on the back to create the train.
Wrap a 12″ length of cardboard tubing with paper or tissue paper and secure with glue.
Attach ribbon to one end of the tube and wrap around in a spiral then secure the ends with glue.
Create a ball of cotton balls or cotton batting and glue to one end of this cardboard tube.
Attach the tube on the side of the train.
Glue on the string of beads you made earlier to the side of the train.
Add additional toys or decorations if desired. 
Wrap or display on the gift table at a baby shower. 
More Baby Shower Gift Ideas
This isn't the only idea you can use for gifting to your friends and family who are expecting another addition to their family. I love the idea of also adding different baby gifts and even more than one diaper cake to the party. Below are some favorites.
Crafting Tip

I mentioned above and highly recommend that you invest in some cute diaper cake accents or baby shower décor to tuck into your creation. Etsy has tons of amazing diaper cake decorations in a large variety of styles to choose from.
Yield: 1
Create your own adorable diaper cake train for the perfect baby shower gift following this easy step by step tutorial with video directions!
Active Time
20 minutes
Total Time
20 minutes
Difficulty
Easy
Estimated Cost
$10
Notes
Use any size diapers and adjust sizing listed above as needed to accommodate the diapers you choose.
Recommended Products
As an Amazon Associate and member of other affiliate programs, I earn from qualifying purchases.
Finished Project Gallery
You can use any color paper or tissue paper for this train.  Pink and blue are traditional for boys and girls, but you could use any color or even patterned paper if preferred.
Wrap your diaper cake train in a large gift bag or simply display as part of your shower decorations.
Customize with additional gifts stuck on the train or platform to gift to mom and baby.