Adorable DIY Paper Straw Heart Decor Wall Hanging
Hearts are always a theme of love around Valentine's Day but also add beauty to any room any time of year. This fun paper straw heart wall décor is a lovely room decoration that is super easy to make. Make these hearts for around the house, to give as gifts, or use as décor for a party. I like the idea of using multiple colors to create a whimsical look or use a single color to match the colors of the room.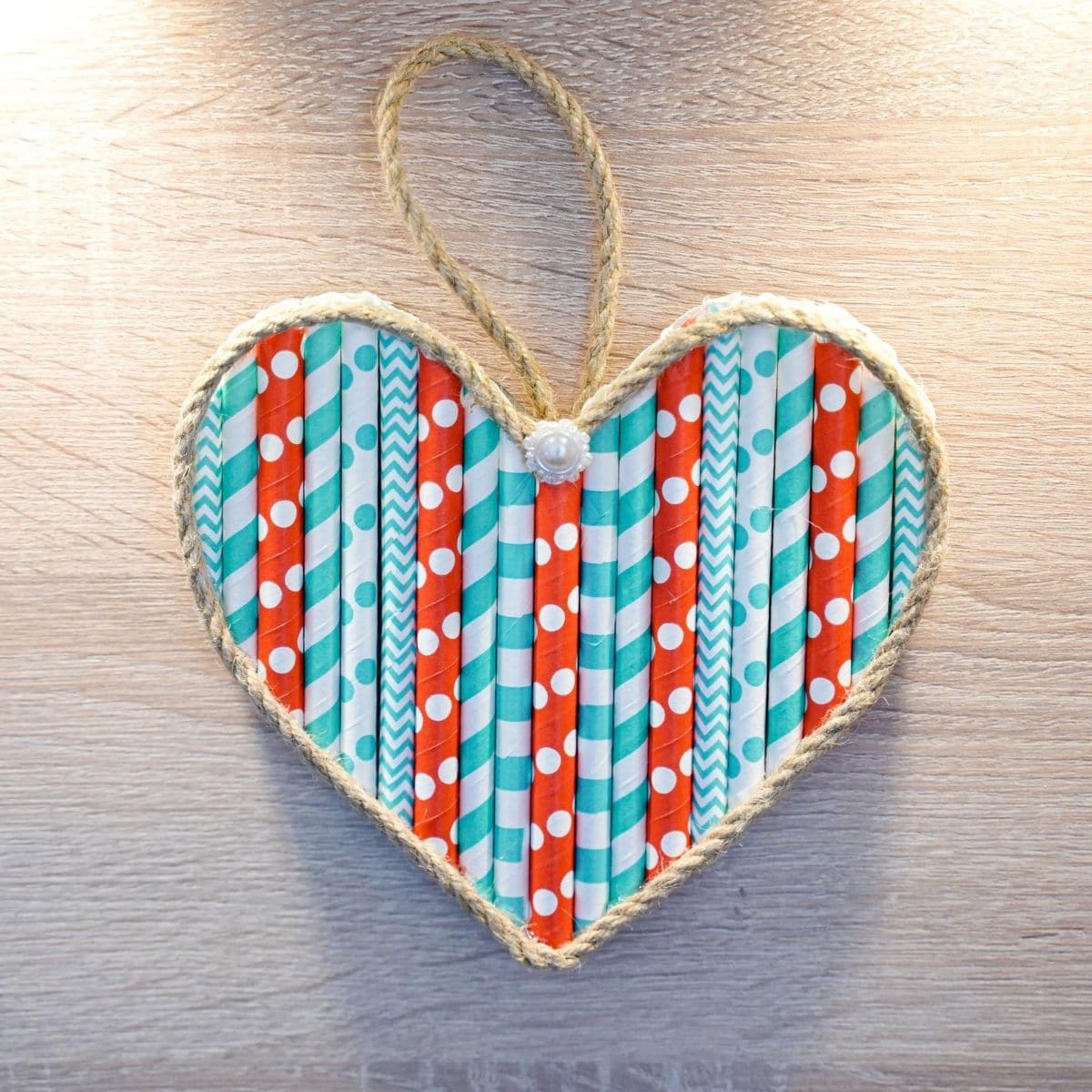 Paper Straw Heart Wall Decor
Crafting with paper straws is a simple way to add something personal to the décor without spending a lot of time and money. What makes it even better is that you can match the paper straws color to the color of the space and it makes it blend in seamlessly.
This heart is a great way to transform something you thought belonged only in the kitchen into a treasured piece of home décor. I love how fun this is to make and how it looks great alongside heart garlands or even next to this button heart canvas wall art. Add hearts to every part of your home to celebrate love or Valentine's Day!
What Glue Should I Use to Hold These Straws?
Paper straws can be held together with almost any type of glue which makes this project ideal for kids to make or adults to create. I like to hot glue because it is a simple to use glue that is always on hand. You might prefer using school glue or even E6000.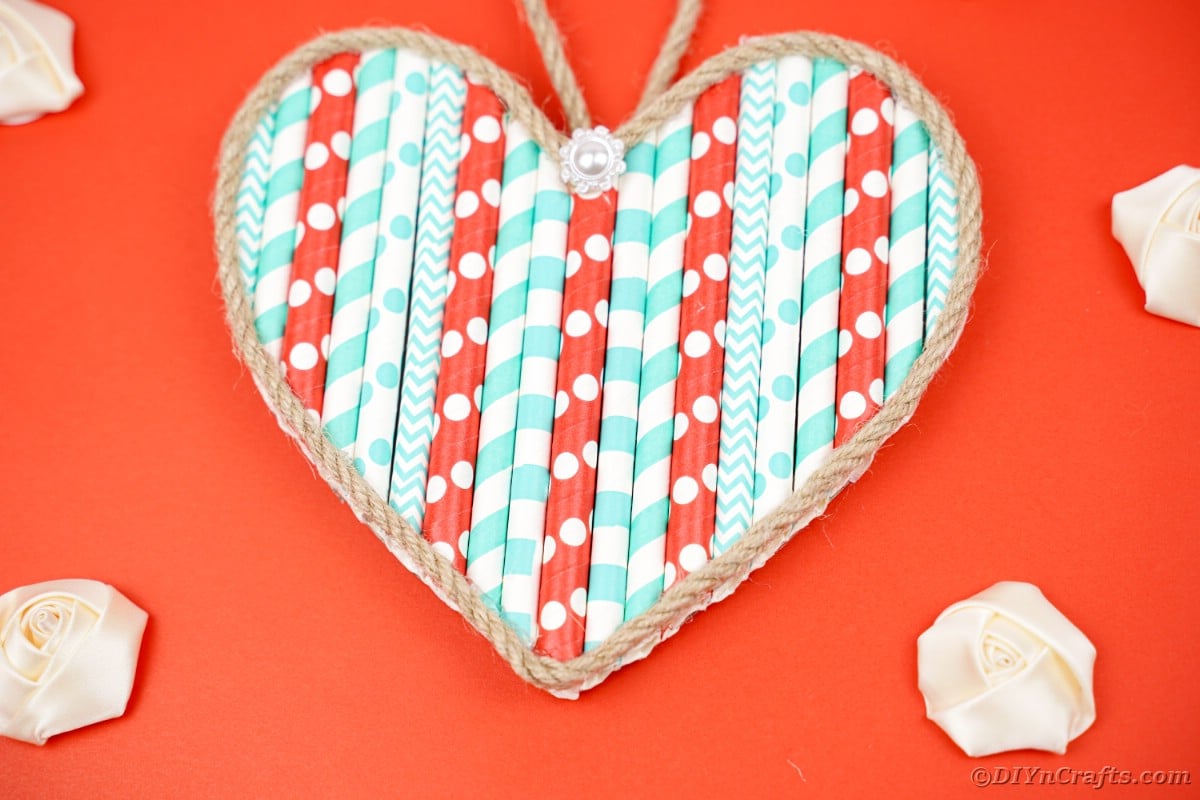 Can I Use Plastic Straws Instead?
If you want to use plastic straws, you definitely can. They don't always have as pretty colors or patterns, but they can work for this craft just as well as the paper straw does with minimal changes.
I've also made a similar project with this rustic painted twig wooden heart decoration. So, you can see that hearts can be made out of anything. I've even made a heart wall art out of pistachios! Just get creative!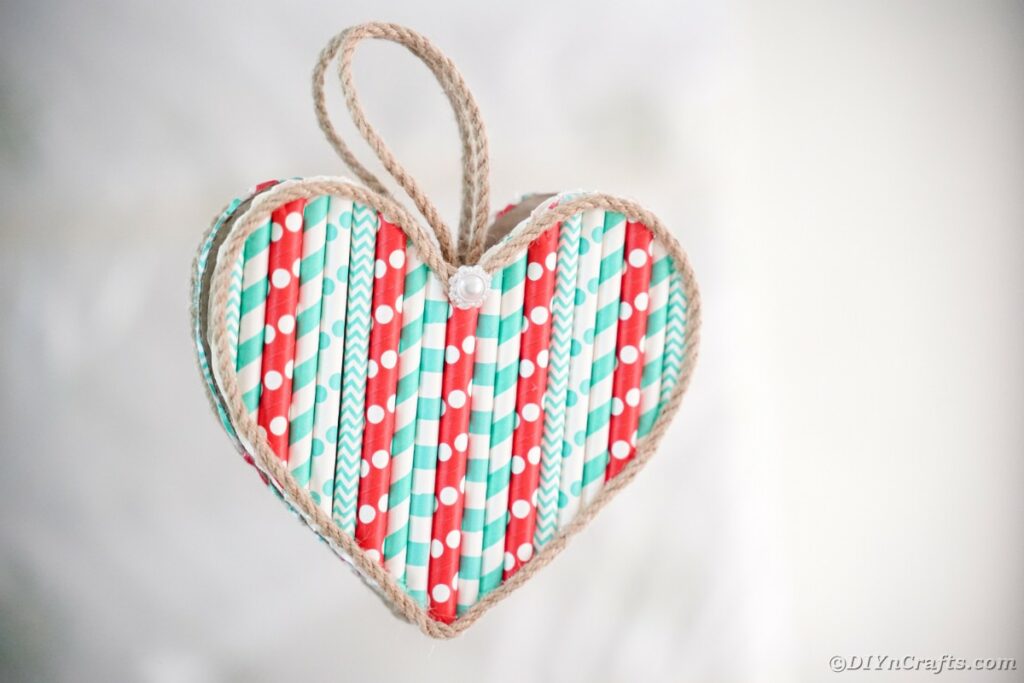 How Can I Customize My Heart Decoration?
This is such an easy project to decorate to suit your preferences. Start with the straw colors and switch them out, but move on to other things to make it unique. Below are a few ideas that I love and think will look great with this project.
Use colored cardboard or spray paint the cardboard red or a matching color. This makes it great for hanging on the ceiling.
Put straws on both sides of the heart so it is double-sided for hanging.
Spray the entire project with glitter spray to make it sparkle.
Replace the twine with colorful ribbon or lace.
Line the outer edge with beads or rhinestones instead of twine.
Use a matching color of twine.
Frame in a large shadowbox or frame as part of a Valentine wall art piece.
How Can You Hang This From the Wall?
You can hang this paper straw heart on the wall using the same rope that you wrapped around the outside of the heart. I also like that you can use this heart as mobile by hanging it from the ceiling instead of the wall.
If you want, it can even be added to gifts or on gift bags as a dangling accent. Just make a smaller version to add to cards or even to cabinets or decorative containers on the countertops in your kitchen!
Tip: Check out this list of command strip lifehacks and ideas for more tips on how to hang this and another decor from your wall!
Supplies Needed
How to Make a Paper Straw Heart Decoration
Cut a heart shape out of white paper.
Use the heart shape to trace onto cardboard.
Cut out the cardboard heart.
Using hot glue, attach the straws to the top of the cardboard heart.
Mix and match colors in a pattern you like.
Once the glue has set, flip the heart over and trim off the excess overlapping straws leaving just the heart shape.
Glue rope around the outer edge of the heart shape.
Attach a bead or rhinestone at the top center of the heart.
Attach a rope loop to the back of the cardboard to hang your heart on the wall.
Display or use as desired for Valentine's day or just because!
More Valentine's Day Decorations and Crafts
Valentine's day is one of my favorite holidays for decorations. There is just something special about seeing all of those hearts, red, pink, and silver all over the house. This year, decorate your own home with some unique looks using some or all of the ideas listed below!
Crafting Tip

While it may seem best to pick up paper straws at the local dollar store, I have found party stores or craft stores actually offer a better price overall when buying bulk packages of straws. You can get multiple of different colors in a single box for a better price than buying individual packs of 10.
Yield: 1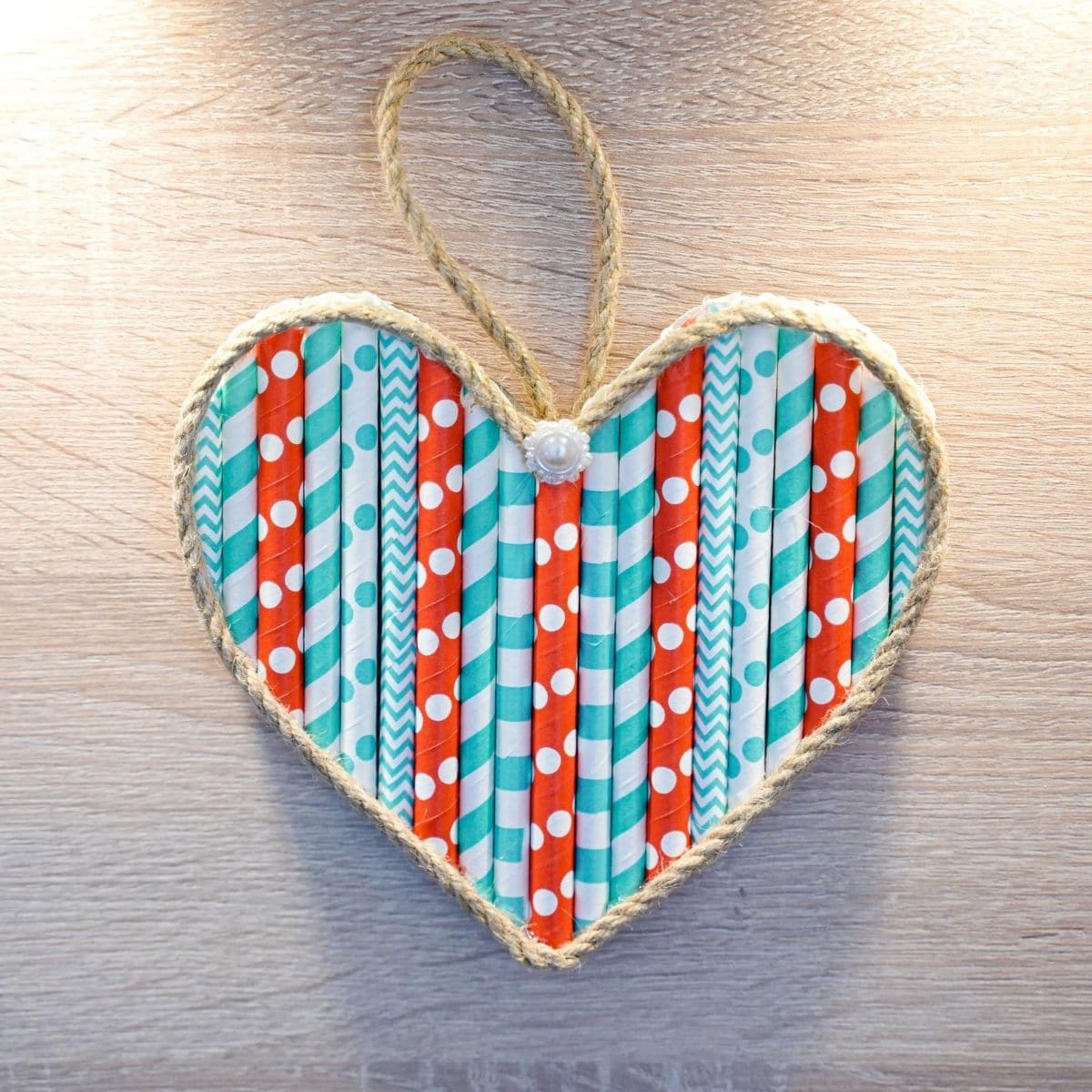 Make this adorable little paper straw heart wall decoration as the ideal addition to your wall this Valentine's Day!
Active Time
15 minutes
Total Time
15 minutes
Difficulty
Easy
Estimated Cost
$1
Notes
This can be made with any color straw to fit all seasons and holidays.
Recommended Products
As an Amazon Associate and member of other affiliate programs, I earn from qualifying purchases.
Finished Project Gallery
Hang this cute little heart in archways and doorways to use like mistletoe for Valentine's Day!
Add this to the top of a gift or dangling on the side of a gift bag as a name card.
Instead of hanging your heart, place it on the top of your plate at a place setting.