Adorable Pom Pom Penguin Winter Decoration
Nothing screams winter and adorable like this cute little pom pom penguin decoration! Whether you add this to your mantle, on a wreath, or hanging from your holiday tree won't matter – it looks great everywhere. It is so easy to make and cost pennies! It's a perfect decoration all winter long and is ideal for making with kids of all ages.
Pom Pom Penguin Decoration
Making poms poms are so easy. By combining the white and black of these pom poms, you get this absolutely adorable pom pom penguin decoration. I admit they are one of my favorite little creatures, and they show up in decor throughout the winter season. I love seeing them in Christmas decor, but you can also find them well into January with winter snow still falling.
If you like penguins, then you'll also love this adorable little painted Christmas light bulb penguin! It's super cute and really easy to make. Of course, I also love the little wine cork penguin ornaments I recently found. What a great way to use up those corks from empty wine bottles!
What Can I Use for the Penguin Scarf?
I wanted the materials in this penguin to be inexpensive so I went with a simple scarf made from a scrap piece of felt. This is a simple solution. Of course, a scarf can be made from almost anything really. Below are some more ideas that I have and would use for a cute little scarf on this penguin.
Scrap fabric off old t-shirts, blankets, sheets, or leftover sewing projects.
Crocheted scarves made from leftover yarn.
Foam craft paper cut and formed into a scarf.
Construction paper cut into a scarf shape and glued in place.
An old tie cut down and added to the pom pom.
You can even see how a pipe cleaner makes the scarf on this little penguin craft idea! There are so many ways to add a personalized scarf to your penguin. Just use your imagination.
How do I Decorate with These Penguins?
These look adorable, literally, everywhere. I would add them to my Christmas tree or as part of my holiday mantle decorations, but you can also use them throughout the winter as mentioned before. They are best kept indoors, but can be added to outdoor decor depending upon if it will be out in the elements or covered.
Add a hook and hang from the Christmas tree.
Glue onto a wreath for a winter door decoration.
Add to a winter or holiday table centerpiece.
Attach to markers or pens as a fun way to keep them from being lost.
Tuck into a kids stocking as a fun little "toy" that can be enjoyed in pretend play.
Sit on the mantle or as part of a winter village scene.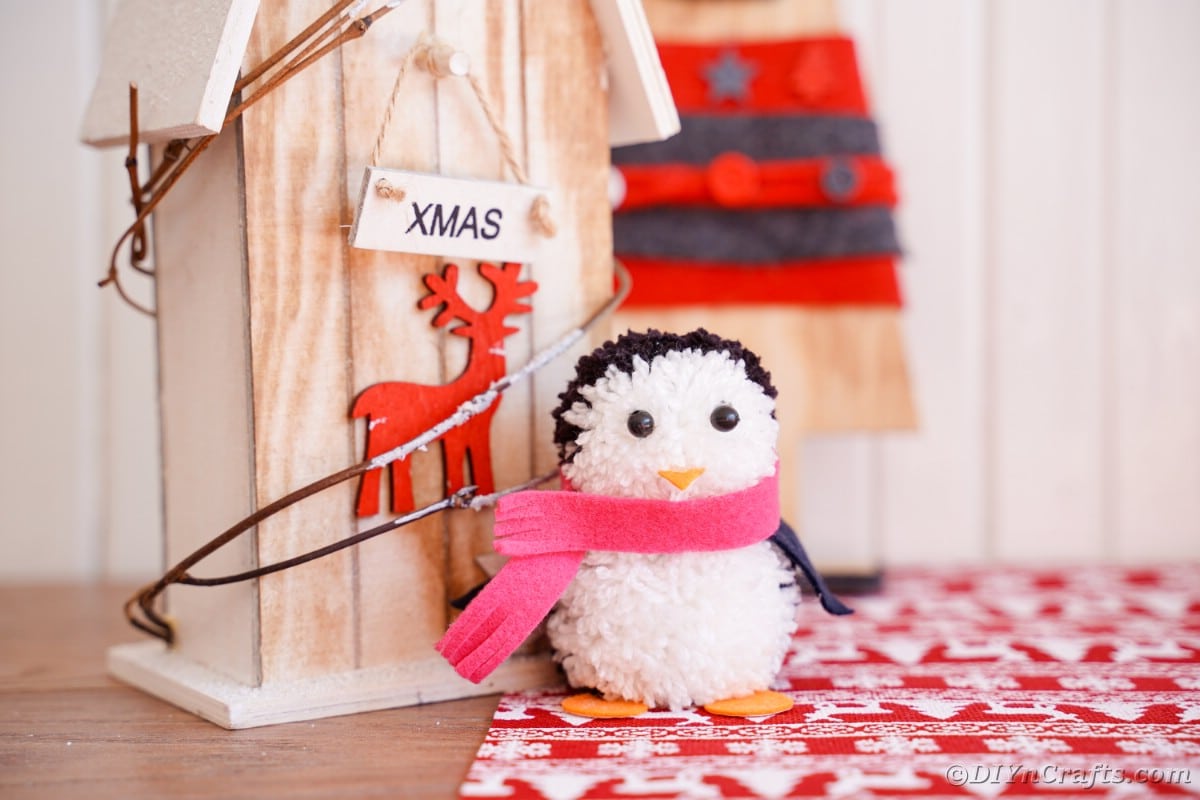 Ways to Customize Your Penguin
While they are typically black and white and have orange accents, you can really update your penguin to make it unique. Just as much as you can use them in many ways, you can also decorate them in many ways. Just think a bit outside of the box.
I love the idea of spraying with glitter spray so they sparkle. You can customize the eyes with googly eyes or different colored beads, add different scarves, hats, or even make a little shirt or jacket to go on them. I'd even go so far as to turn them into a "super penguin" with a cute little cape around their neck!
Can I Make This With Regular Pom Poms?
You can make this penguin with regular pom poms but you would need to attach white and black ones together to create the same look. I have never seen two-toned pom poms like this, so it would definitely be a little extra project to get the look right, but it could save some time if you are making a lot of these or making with children.
Supplies Needed
How to Make a Pom Pom Penguin
Wrap white yarn around the palm of your hand 35-30 times. Cut the end and leave it on your hand.
In front of the white yarn, wrap black yarn around your fingers about 30-35 times. Cut the end and leave it in your hand.
Cut an extra piece of black yarn, and slide underneath the two bundles on your hand and tie in the center so you have black on one side and white on the other side.
Remove from your hand and tighten the center string.
Cut through both sides of the yarn bundle leaving the middle together.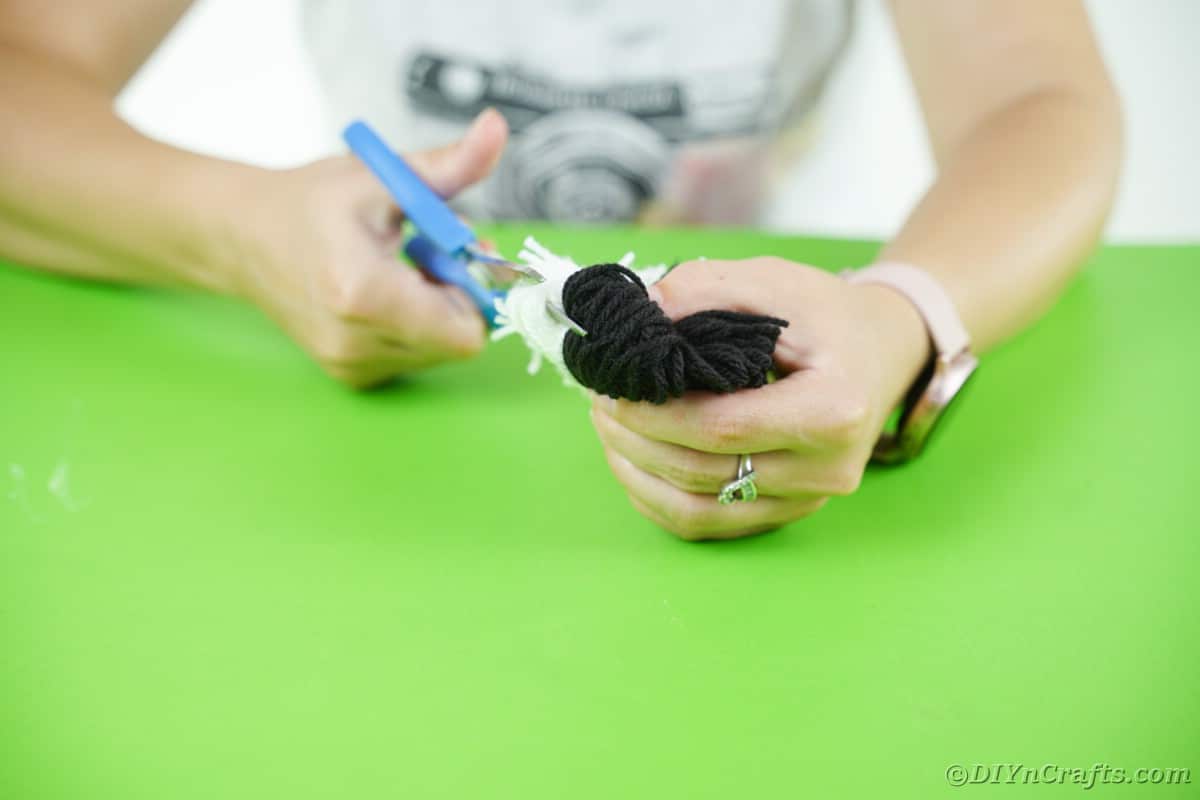 Trim around the edges so it creates an even round ball.
Repeat this process again.
Cut two oval shapes out of black felt.
Attach these with glue onto the top of one of these pom poms so the ends fall down over the sides of the pom pom.
Glue the second pom pom on top of this so the white sides are on one side and black on the other. This will be creating a body with arms sticking out of the middle.
Cut out two small orange feet and glue them into place.
Add the black beads for the eyes.
Glue on a small orange triangle for the nose.
Make a scarf out of felt and glue it around the neck.
Display or add a hook and hang as a holiday ornament.
More Fun Winter Craft Ideas
There are tons of great ideas to keep busy crafting no matter the season. Wintertime brings out some of my favorite projects. Not only can I decorate for the holiday season, but all winter long. Check out some of these fun craft and decor projects below.
Crafting Tip

Since I make most of my pom poms from scratch like this, I order bulk yarn from Dollar Tree online for a better deal and variety. The yarn is great quality and ideal for projects like this on a budget.
Yield: 1
Make your own homemade pom pom penguin decoration for a fun winter craft in only a few minutes time! A perfect kids craft this winter!
Active Time
20 minutes
Total Time
20 minutes
Difficulty
Easy
Estimated Cost
$1
Notes
Make these in smaller or larger sizes if desired to create a cute little penguin family!
Recommended Products
As an Amazon Associate and member of other affiliate programs, I earn from qualifying purchases.
Customize your penguin with different colored scarves or even a cute little hat on top.
If you add an extra length of yarn on the back, this can be turned into an ornament!
This is a perfect way to use up scrap yarn and create something cute with your kids!
Related Content