Adorable Toilet Paper Roll Hedgehog Fall Craft
It is certainly a rite of passage for children to craft and create with empty toilet paper rolls.  So, this toilet paper roll hedgehog is sure to be a hit!  A perfect craft for fall, or just because, it's fast, easy, and fun.  A bit of paint and a marker and you have a perfect little critter for decorating or just to make you smile!
Toilet Paper Roll Hedgehog
It's time to grab that bag of toilet paper rolls out of the craft closet and turn them into something new!  Whether your kids love hedgehogs or you want to do a study at preschool on woodland creatures, this is a perfect craft.  It teaches all about painting, helps with motor skills, and while it can be a bit on the messy side, it's also fun for getting kids ready to cut and paste items. 
If you have extra toilet paper rolls after you make this, you can create one of these recycled toilet paper roll pumpkins, or check out this list of toilet paper roll crafts for kids for a variety of inspiration. 
Can I Use a Paper Towel Roll Instead? 
You sure can!  Just cut to size and follow the same instructions.  You can even cut the paper towel roll into 3 pieces and make shorter hedgehogs if you want. 
Or, you can follow the tips in this paper octopus craft for creating your own "roll' to use for this project if needed. For this project, I would recommend using cardstock or a heavier paper rather than copy paper when making the "roll".  It needs to stand up on it's own, and being painted means you need a bit more sturdiness to the overall body. 
What Paint is Best for Toilet Paper Rolls? 
I prefer using basic acrylic craft paint for painting the toilet paper rolls.  It goes on smoothly, is affordable, and most are non-toxic if using with kids.  Finger paints are another option when working with little hands.  
The only paint I would really avoid is watercolor.  When used, the paper roll would absorb too much water and not keep the color.  It could also make it just mushy and fall apart.  So, skip that in favor of thicker paints. 
What Else Can I Use to Make the Hedgehog Face and Feet? 
I grabbed a marker that I already had on hand because it's just the easiest option.  For smaller children or kids who don't have a lot of skill drawing the features, you can use a number of things to create the face and feet. Below are some of my favorites to use for projects like this. 
Stickers
Foam paper cut-outs
Construction paper, cardstock, or similar cut to shape
Googly eyes, buttons, or beads
Yarn, ribbon, twine, or rope
Whatever you use, remember that it's all about making it fun to create.  Nothing has to be exact.  Instead, have fun making your hedgehogs and give them personality with different features, smiles, and such. 
What Else Can I Use to Make Hedgehog Spikes? 
For this example, I used some brown craft paper.  Cutting the jagged edges makes it look like spikes and is super easy even for little hands to manage.  You can also use paper with yarn attached, or you could even use fake fur if you wanted.  Get creative with what you have on hand. 
I love the idea of a solid oval of paper that has been covered with lines of paper scraps as "spikes" sticking out all over the back of the hedgehog.  How fun would that look? 
How Can I Hang This? 
If you want to hang your hedgehog instead of displaying him, you can easily do so.  I like using a bit of fishing line so it looks more natural, but you can use ribbon, twine, string, rope, or even ornament hooks.  Just use a small hole punch on the back "fur" of the hedgehog and string the line through.  You can also attach the string through the inside of the paper roll before you even staple and paint it. 
Can I Do This to Make Other Animals? 
Yes!  Toilet paper rolls are super versatile naturally in crafting.  Making them into animals just fits.  While we have made a paper roll butterfly and even some spooky Halloween characters from toilet paper, we don't have a lot of examples of animals made from them.  To make something different than a hedgehog, just focus on the colors of the animal fur and any special features.  The toilet paper roll is the base to work around.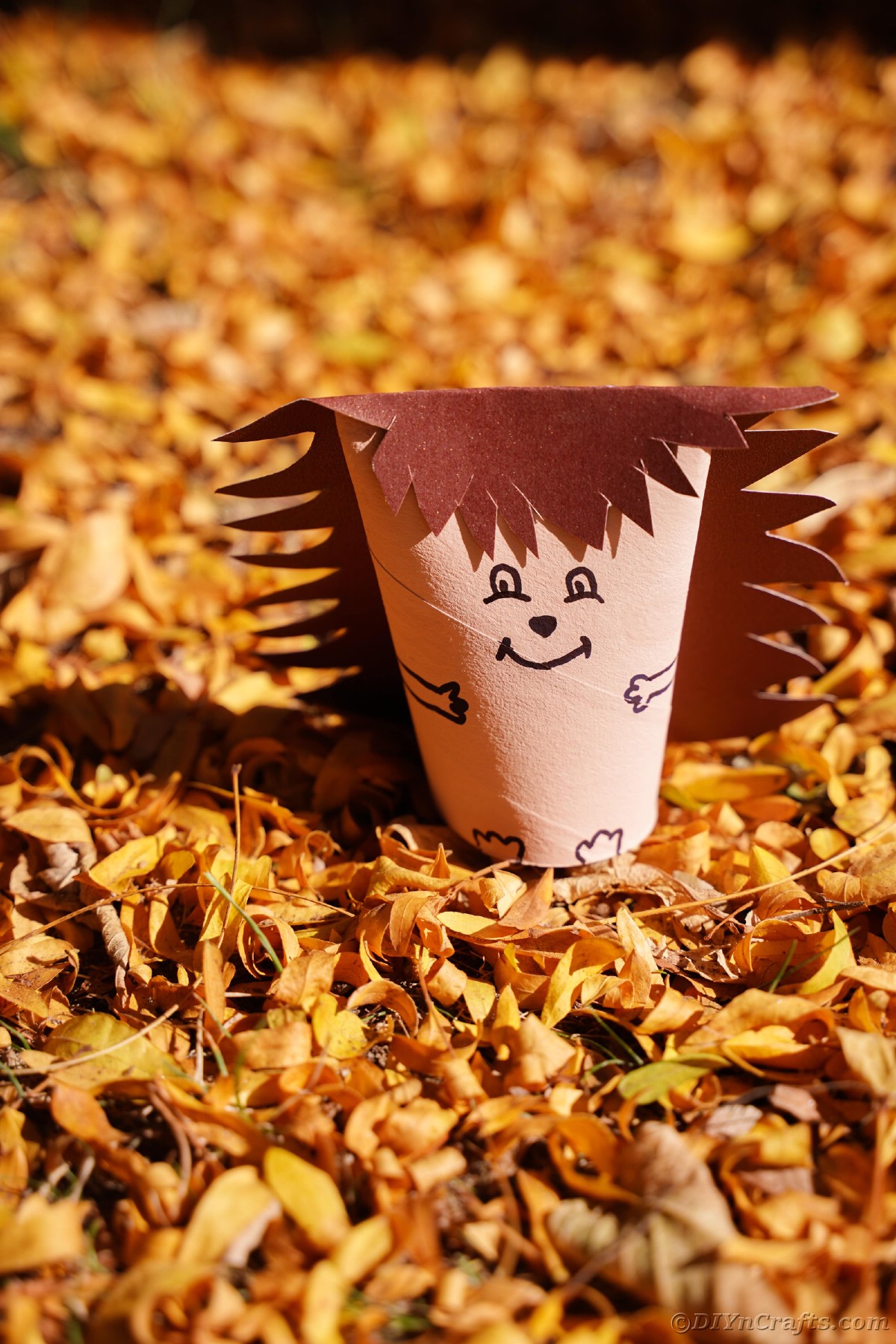 Supplies Needed
How to Make a Toilet Paper Roll Hedgehog
Fold one end of the toilet paper roll together to create a "pocket" and staple together. 
Paint the toilet paper roll light brown on all sides, then set it aside to draw.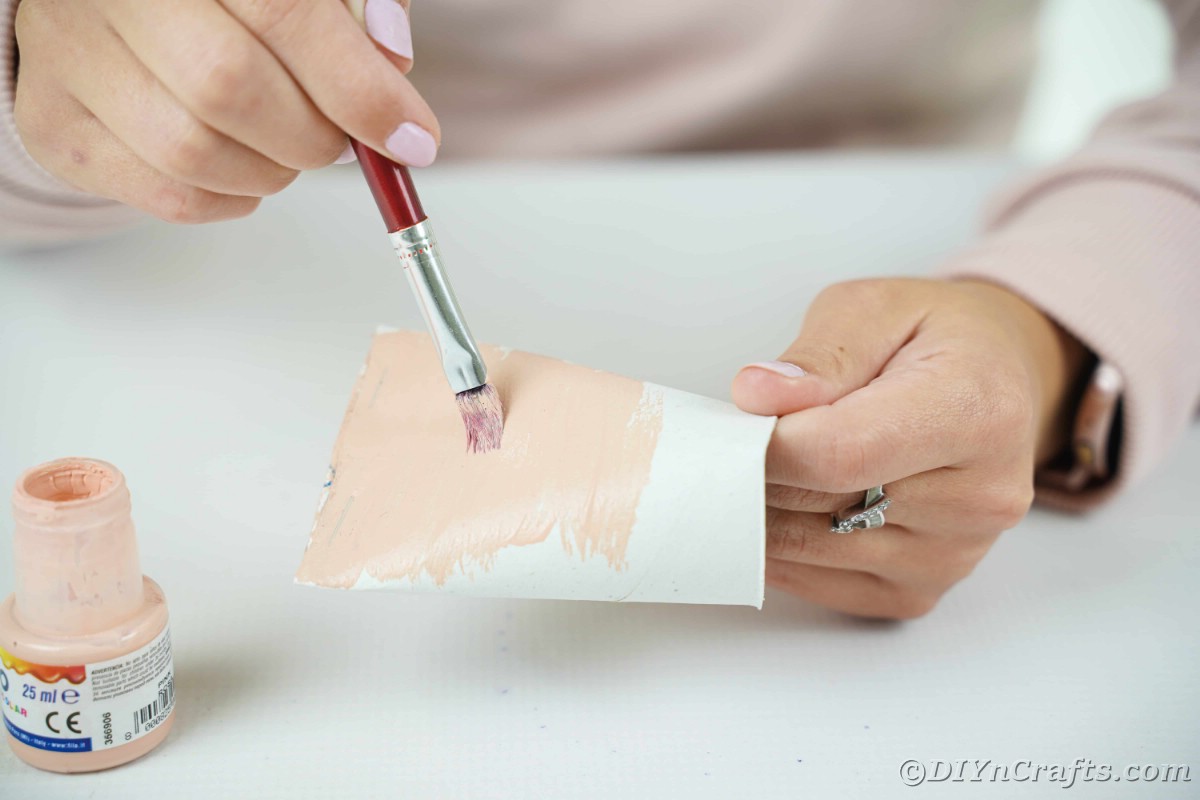 Trace a rectangular shape onto the cardstock. 
Then cut triangles or "spikes" out on 3 of the sides leaving the bottom flat. 
Once the paint has dried on the toilet paper roll, glue it in place onto the brown "spikes" so the flat open end is against the flat end of the brown paper. 
Fold the top of the remaining "spikes" down and glue over the folded part of the toilet paper roll for "hair". 
Using a marker, draw feet, arms, and a smiling face onto the body of the hedgehog. 
Hang, display, or play with your hedgehog. 
More Cute Hedgehog Crafts
I adore real hedgehogs, so of course, they are fun to create too!  Below are some more of my favorite ideas for turning basic craft supplies into a fun little critter.  Whether you want it for playtime with the kids or decorating this fall, this list has something to suit your needs.  Make sure that you pin, bookmark, or print these out so you can make them soon!
Yield: 1
This adorable toilet paper roll hedgehog is the perfect fall craft for kids to make! Fun, easy, and cheap!
Active Time
10 minutes
Additional Time
30 minutes
Total Time
40 minutes
Difficulty
Easy
Estimated Cost
$2
Notes
Hang or display your hedgehog on the mantle with similar fall decor.
Recommended Products
As an Amazon Associate and member of other affiliate programs, I earn from qualifying purchases.
These are a perfect craft for making with kids for fall! 
Customize them with different colors, beads, sequins, or more to add personality to the critter. 
These can even be sealed off on the bottom to create a little gift box for tucking candy inside as a present!