Adorable Yarn Pom Pom Cloud Wall Art
What a fun project to make with the kids! This yarn pom pom cloud wall art piece is ideal for a baby's nursery, kids room, or a party decoration. It's super easy to make, fun for kids to do on their own, and inexpensive. I love the idea of making several to put on the wall in a bedroom!
Yarn Pom Pom Cloud Wall Art
I'm always up for a fun new project with yarn. It's such an affordable medium, and so versatile. For this project, I wanted something that was fun, easy to make, and would work for multiple purposes.
Clouds may seem like an odd choice, but as springtime arrives, rain showers happen more often. So, the idea of making some fun clouds to decorate with sounded fun!
Also, I happen to be one of those slightly odd folks who love rain! Rainy days are a great way for me to relax and enjoy seeing the world around me be cleansed. Sure, it gets old sometimes when non-stop, but mostly, I love the rain!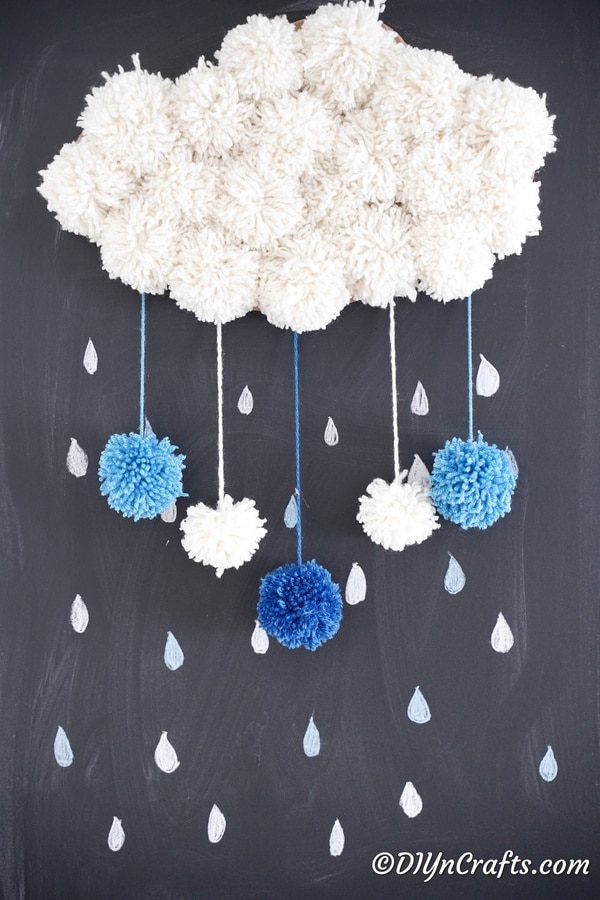 For a little more grown up craft, you can use excess yarn to make this homemade pom pom flower bouquet. Did you know you can even make this amazing rug from pom poms? How gorgeous is that?!
How do I Make a Yarn Pom Pom?
Making homemade pom poms out of yarn is super easy to do. You simply take the end of the yarn, and begin winding it around a small piece of cardboard or the palm of your hand. I prefer the hand as it is handier. Ha! Pun intended!.
Start by wrapping the yarn around your hand 15-20 times. That is usually enough for a smaller pom pom like we used here. If you need larger ones, you may want to wrap it upwards of 40 times. Of course, you can experiment with this until you find the right amount for your projects as it may be different depending on the size of your hands.
Another great idea for decorating your home is this fun new shiny mirror wall art I made recently. You might also want to check out this great list of DIY wall art projects. Tons of great ideas there for decorating your home.
Can I Make This With Store Bought Pom Poms?
You sure can! I often use pom poms I bought in the craft store on projects. For things like this, however, I find buying large enough pom poms can get pretty pricey. A skein of yarn can make tons of pom poms and is much more affordable in the long run. Of course, if you aren't worried about expenses but more concerned about convenience, just pick up the ones on the craft aisle.
Where Should I Display This?
As mentioned before, I absolutely love the idea of this on the wall in a nursery. It would be great against a sky blue wall with some flowers painted on the wall. You could also simply use this as a fun decoration for a birthday party. I even think it would work great for a rainbow-themed party, or a party for St. Patrick's Day when rainbows are part of the decor.
You could even make two identical ones that can be glued back to back so you can hang them from the ceiling to feel more like real clouds. I think that would be super fun for a birthday party.
If you need another fun idea for decorating, don't miss this incredible list of DIY kitchen signs or my great list of rustic wood signs for your home. Decorating is an easy job with these ideas!
Supplies Needed
How to Make a Yarn Pom Pom Cloud
Begin by drawing a cloud shape onto your cardboard and cutting it out to size.
Now, you will make your pom poms by wrapping the yarn around your hands several times, cutting the end, then tying in the middle with yarn.
Cut through the loops on each side and fluff, then trim into a circle.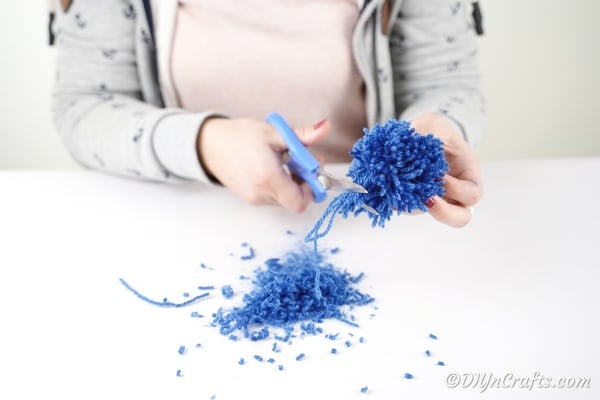 You will be making 1 dark blue pom pom, 2 light blue pom poms, and 20-25 white pom poms.
Now, you will begin gluing the white pom poms onto the cardboard.
Once all of the cardboard cloud is covered you will then take 5 pieces of yarn and cut into various lengths.
Add a single pom pom to each of these lengths of yarn.
Glue or attach the pom pom strings to the bottom of the cloud to look like raindrops.
Now you can hang on a wall or display as desired.
Crafters Tips

If you are like me and use a lot of yarn in your crafting projects, then you should check out KnitPicks yarn options. They regularly are sending out special deals, and the variety offered is amazing!
Yield: 1
Grab your stash of yarn and have fun making this adorable yarn pom pom cloud! It's a great wall art piece to add to a baby's nursery or use for a fun party!
Active Time 20 minutes
Total Time 20 minutes
Difficulty Easy
Estimated Cost $3
Notes
Feel free to use different colors of yarn to make this more fun and bright for a baby's nursery!
Recommended Products
As an Amazon Associate and member of other affiliate programs, I earn from qualifying purchases.
Related Content