I love upcycling stuff, so why not use an old sock or sweater to create a pumpkin? This stuffed sock pumpkin is beautiful, easy to make, affordable, and most of all, it is super simple to customize. Make this little pumpkin decoration as a gift, to put on your table, mantle, or to top a package with for a fun fall creation!
Stuffed Sock Pumpkin
When you look to what you have on hand to create with, sometimes inspiration hits and you find yourself using items that might otherwise never make it into your crafting. An old sweater with a hole but cute striped arms can be turned into a pumpkin when stuffed with rice. No sweater around? Check that bin of socks without mates!
This easy craft is just one of the many ways I like using old socks. In fact, here is a list of frugal ways to use mismatched socks, and even a whole list of sock toys you can make for the kids! We have even made rice-filled sock Scandanvaian gnomes and sock bunnies for holidays!
What Should I Stuff the Sock With?
For this, I used rice to stuff the sock. Rice is a great choice since it is so cheap and probably already on hand. Other options include dry beans, lentils, or styrofoam beads. When using foodstuff, remember that sometimes those items can get weevils, so if keeping the pumpkin for the long term, you may want to invest in the styrofoam beads.
Another option is to stuff it with scrap fabric, yarn, or even some newspaper or scrap paper crumpled into a ball. While a softer material is nice, it just needs to be filled to a rounded shape. Even a styrofoam ball could work inside the sock if you wanted something more solid.
What Are the Best Socks for Making Pumpkins?
The best socks are the ones you already have that don't have a match. Of course, when making a pumpkin, you might automatically think it should be orange, but that's not the case. There are tons of gorgeous pumpkins in a number of colors. I love the rich jewel tones of fall and have seen beautiful displays that included forest green, navy, maroon, and even shades of black with gold accents.
The only other thing to consider is if the sock is thick enough that items won't fall out of it or through cracks. The sweater shown for this has a looser weave, but it is still thick enough no rice falls out. A solid fabric may be better than hand crochet or knitted choice if using small items like rice as stuffing.
What All Can I Use for the Pumpkin Stem?
I tend to go for natural elements when doing fall decor projects, so I grabbed a small branch and cut a piece to use. That's not the only option, however. Below are some ideas that make perfect stems on your pumpkin!
Small piece of wood, twig, or a branch.
Wine cork.
Pecan, walnut, or almond in its shell.
An extra-large bead or pom pom.
Raffia wrapped together to create a thick "stick".
Small drawer knobs or pulls.
How Can I Decorate Using This Pumpkin?
Throughout fall you see pumpkins used everywhere for home decor. Whether it's on the wreath at your front door or you find it sitting on a table with other fall elements, it's the classic fall seasonal decor item. This pumpkin can easily fit into all of those things, and below are a few of the ways you can decorate using your stuffed sock pumpkin this year.
Add to the mantle, bookcase, or shelf, along with other fall-themed decor items.
Use as part of a side table or dining table centerpiece. Great if you make multiple similar in different sizes.
Attach to a wreath.
Hang from the ceiling with fishing line as part of a fall-themed party or event.
How Can I Make This Pumpkin Look Fancier?
While I adore the rustic look most of the time, there are some days when something a bit more upscale is needed. In this case, the pumpkin may look a bit rustic now, but a few changes can make a huge difference. Especially if you swap out the colors.
I love the idea of using different fabrics of socks. A velvet texture from a sweater sleeve would be excellent, while an argyle sock would present a whole new look or style.
Other additions are to dip the stem, vine pieces in glitter so they sparkle, spray the entire thing with glitter spray, or add sparkling twine over the rubber bands as accents.
Supplies Needed
How to Make a Stuffed Sock Pumpkin
If using a sock, skip the first step.
Cut an 8″ length of the sleeve from a sweater.
Using needle and thread, sew up one end of the sleeve creating a "sock".
Fill the sock with rice until it is large enough to form a ball shape.
Sew, through the sock just above the fil line for the rice, then tie yarn or additional thread around to secure.
Trim off any excess fabric.
Wrap the ball with rubber bands creating the indentations of a pumpkin. Press and flatten down until a pumpkin shape forms.
On a piece of brown foam paper, draw a leaf shape. Cut this out and attach it to the top center of the pumpkin with glue.
Use a pencil to wrap pipe cleaners or moldable wire to create a "spring" shape for the vine.
Add a short twig to the center of the pumpkin for the stem.
Then, glue the wire springs beside the twig.
Display as desired.
More Pumpkin Crafts for Fall
Whether you want pumpkin decor or just love the flavor of pumpkin spice throughout the season, this fall your life is going to be overflowing with pumpkin everything. Below are a few more of my favorite pumpkin home decor ideas. Make sure you bookmark, pin or print these tutorials to make this fall for your own home!
Active Time
20 minutes
Total Time
20 minutes
Difficulty
Easy
Estimated Cost
$2
Notes
Instead of sewing the top of the sock closed, use a rubber band and ribbon to tie off securely.
Recommended Products
As an Amazon Associate and member of other affiliate programs, I earn from qualifying purchases.
Finished Project Gallery
Make these in various sizes to create your own unique pumpkin patch on your mantle.
Use socks, sweater sleeves, or scrap fabric to create your pumpkin.
These can be used from August to November as decor for fall, Halloween, and Thanksgiving.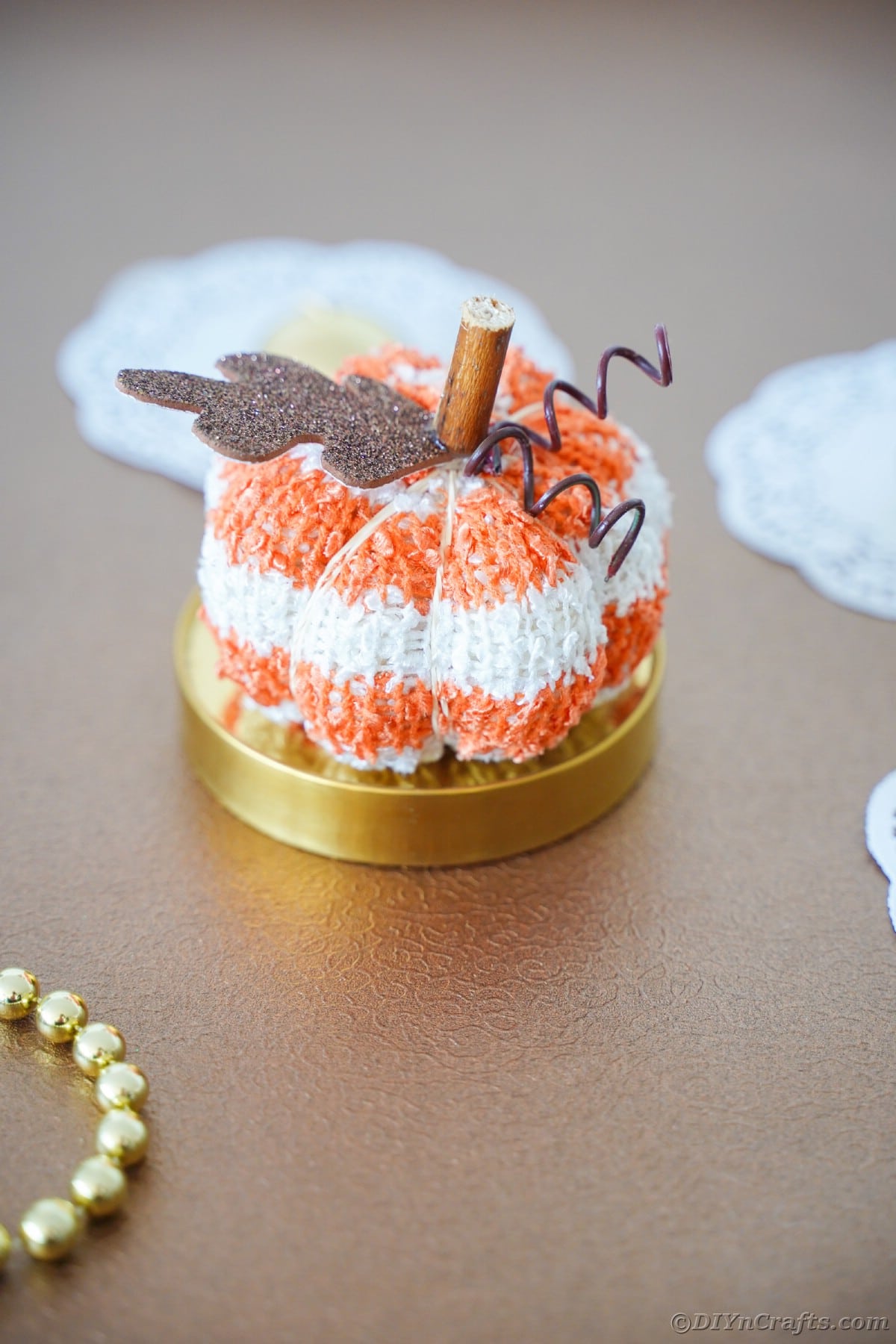 Add to natural elements as a centerpiece at your Thanksgiving table.