Cute Painted Glass Fishbowl Pumpkin Dollar Store Craft
This painted glass fishbowl pumpkin is such a cute little decoration for fall. You can make this in no time, and it's a perfect craft for kids to make. Add this as part of your Thanksgiving table centerpiece, or use it as a side table decoration, but know it's going to become a personal favorite you keep year after year.
Glass Fishbowl Pumpkin
You don't have to like pumpkin spice foods to love this cute little "pumpkin spice" decoration! Simple, affordable, and definitely a dollar store craft, it's a fun project to make with kids. I like adding pumpkins in different shapes and styles around the house and have been on our front porch as soon as August hits. Keeping them up through November is one of my favorite parts of the year. It just feels like everything is cooler, more comforting, and relaxed out.
If you like unique pumpkins, then you might also like this painted lightbulb pumpkin or this upcycled flower pot pumpkin. They are so cute and easy to make. Of course, I think my all-time favorite pumpkin craft has to be this shabby chic old book pumpkin.
What Paint Should I Use for This Pumpkin?
Since you are painting the inside of the bowl, you can use whatever you have on hand, but I recommend and acrylic craft paint. It's affordable, usually non-toxic for kids, and comes in a variety of colors.
I would not recommend using watercolor or spray paint for this project. Watercolor won't give you the color you want, and spray paint is just going to drip and make a mess.
Can I Use a Different Base?
My base was a small glass fishbowl. It had a smaller base and smaller opening that made it look more like a pumpkin. If you want to use something that is plastic instead of glass, please do! It's a safer choice if working with kids.
I recommend checking your local dollar store for options that are a similar shape. Pick as large or as small as you want the pumpkin to be, or even get a variety of sizes to make a little pumpkin patch with this method.
What Can I Use to Make the Pumpkin Lines?
To add the stem and lines down the sides of the pumpkin, I used little smooth glass rocks or pebbles. These are $1 per bag at Dollar Tree and come in a large variety of colors. So, they were a perfect option to keep this affordable.
You can use just about anything you want for the lines. Ribbon or twine could be glued onto the bowl down the sides, or you could use just a simple paint or marker. Of course, I like the texture and depth of the rocks.
Some other ideas include beads, pebbles, beaded ribbons, sequins, yarn, or strips of lace. Get creative and offer different things for your kids to choose from if they are helping you make this pumpkin.
What Can I Use for the Pumpkin Stem?
I love making things match, so for this stacking the rocks together into a stem at the top worked great. If you want to go a bit fancier or more rustic, there are other great options to choose from below.
For a rustic look, a wine cork, piece of twig or branch, or a bundle of raffia.
A fancy or upscale look could be a dowel spray painted gold, gold beads, or even a gold taper candle cut to size.
Other ideas include using bottle caps painted and stacked together, lids from spray bottles painted and attached, or a small pinecone.
What Glue is Best for Attaching the Rocks?
If you choose to use the rocks as I did, it really is best to use hot glue or something like E6000 or Gorilla glue. Heavy-duty glue is needed for the heavier rocks. When using something like yarn or sequins, you can get away with using basic tacky craft glue, or perhaps just basic school glue if working with children.
How Can I Display This for Fall?
I love the idea of using a round tray filled with similar pebbles or rocks and placing the pumpkin down in the center as a centerpiece for the table. But, that's not all you can do with this! It's a great addition to any shelf, bookcase, mantle, or table. Display by itself or add it to an existing arrangement.
Since it is a bit larger than some, you can arrange smaller decor around it. I love the idea of using it outside in a fairy garden too! It would be a great fairy garden accessory that brings the season to life in your garden!
Supplies Needed
How to Make a Glass Fishbowl Pumpkin
Paint the inside of a glass fishbowl or similar bowl orange using craft paint. Set aside to dry.
Once dry, turn it upside down so the open side is down, and begin gluing glass rocks to the top covering the flat bottom.
When the top is covered, begin gluing the rocks down the side of the pumpkin. A single line of rocks to create a "line".
Repeat this 4 to 6 times depending upon the side of your bowl.
On the top center rock, glue additional rocks (4 to 5). Stack them on top of each other with glue to create a stem.
Now you can display your glass pumpkin!
More Fall Craft Ideas
At the beginning of August, I start bringing out all of the fall decorations. From pumpkins and leaves to cute wreaths, there are tons of great ideas below that you can add to your own home decor this year. Make sure you bookmark, pin, or print these tutorials to add to your fall decor crafting.
Yield: 1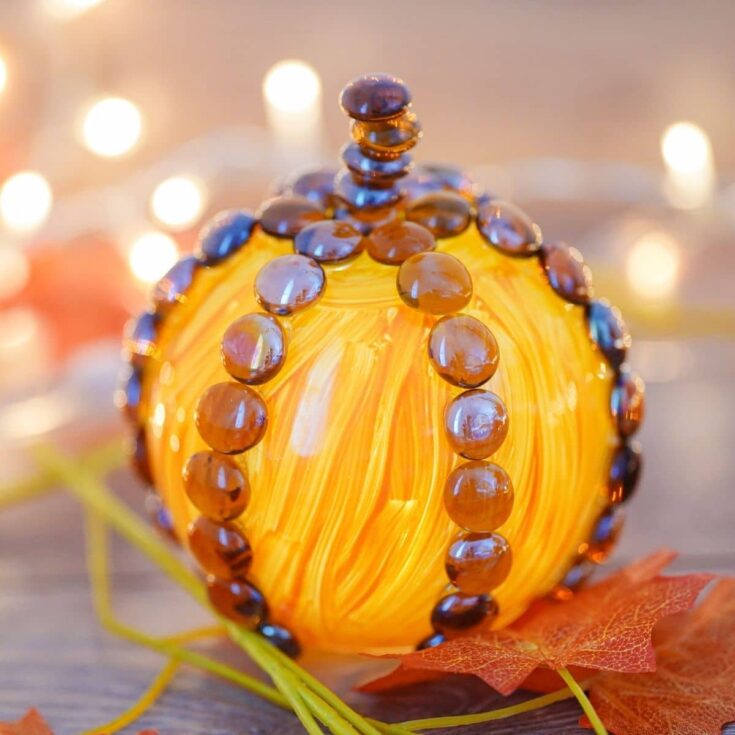 Upcycle an empty fishbowl to create this lovely painted glass pumpkin! A great Halloween or Thanksgiving decor project!
Active Time
15 minutes
Additional Time
30 minutes
Total Time
45 minutes
Difficulty
Easy
Estimated Cost
$5
Notes
Make this with any glass or plastic clear bowl with a tapered top and bottom and a rounded middle.
Recommended Products
As an Amazon Associate and member of other affiliate programs, I earn from qualifying purchases.
Finished Project Gallery
Add a small LED candle to the inside for a glowing pumpkin!
Use this as the center of your table decor and surround it with natural elements like leaves and pinecones.