Decorative Mini DIY Easter Egg Basket (Video)
Isn't this little miniature Easter egg basket adorable?! I confess to being absolutely in love with anything miniature, so this cute basket is ideal for my crafting during Easter. All you need is some craft paper, glue, and a few fake flowers to make this cute little basket. This will be a perfect addition to your Easter table or a great kids gift idea!
Mini Easter Egg Basket
When I see something miniature I just want to squeal! In fact, miniature items are one of those things my husband and I are often on the hunt for when shopping or traveling. We've gone so far as to plan an anniversary weekend around visiting a miniature museum. So, when Easter rolls around, this little mini Easter egg basket is a must on my list of crafts to make.
I've seen cute little mini Easter baskets crochet patterns on Etsy for years. While I love those, I knew I wanted something a bit faster. This was the result. I think these are just adorable, and am super proud of the result!
For a more traditional Easter egg idea, check out this rustic glitter Easter egg. It may be my all time favorite Easter craft I've ever made!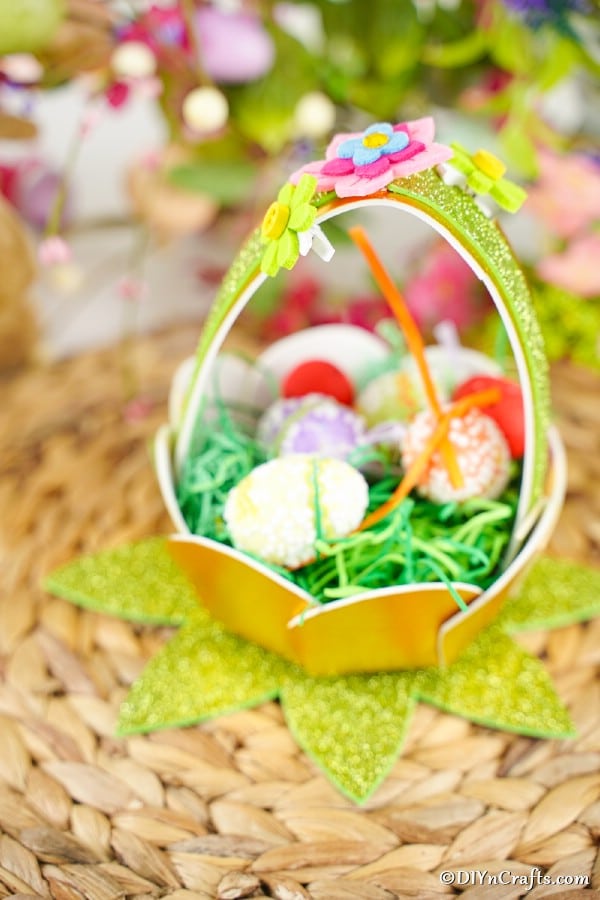 Can I Make This Bigger?
While this takes up the better part of a traditional piece of craft paper, you can definitely make it larger. Just grab some poster board at your local dollar store. Use the same process, only on a larger scale.
Note: While I think it would be great to make bigger ones, I wouldn't necessarily trust them to hold a ton of items to carry around. Fill them up on the table, but don't use these to carry eggs the kids have hunted. They just aren't sturdy enough to not fall apart if too heavy an item is placed inside.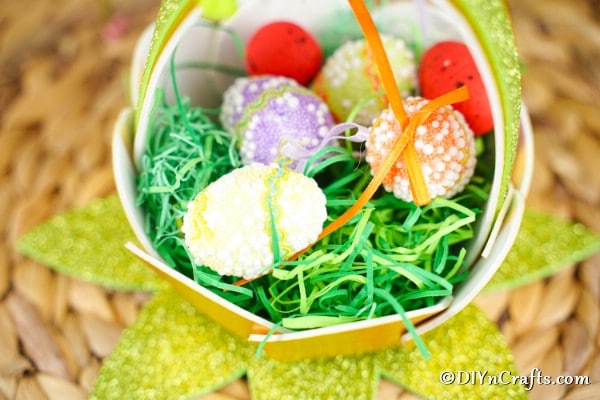 Another great bigger craft for Easter is this easy tutorial for burlap Easter bunnies. Super cute and great on the mantle next to this easy Easter bunting.
Do I Have to Use Glitter Paper?
No, it's not necessary to use glitter paper. I definitely love to add glitter to any project, so it's a given that I will grab it first. This little glittery pink flower basket is another one I made recently that is of course, all glitter paper. It's just a personal preference.
Feel free to use any type or color of paper you want for this basket. I do recommend a heavier card stock or foam paper for durability.
How Can I Use My Mini Basket?
I love it for giving little mini candies, but it's also great for decorating your table. Actually, these mini Easter egg baskets are great next to my little lifelike birds nests to fill with candy. Such a great way to decorate your Easter dinner table. Fill them up with mints, chocolates, or other candies and let your guests take one home at the end of the day!
What Should I Fill My Basket With?
Well, the foodie in me says candy or chocolate. In fact, these cute little miniature chocolate bunnies or these white chocolate Easter bunnies look great! I also have my favorite carrot cake cookies that will just fit into this basket if I make them the right size. These Easter bunny and chick sugar cookies are a bit larger, but I bet you could adjust them to fit if you wanted.
Now, if you are thinking more along the lines of non food items, there is a great list of non candy Easter egg treats to check out. I also love personalized carrot name tags, and of course, these gorgeous little handmade swirl mini Easter eggs are perfect. If you are gifting to your girlfriends, then these bunny bath bombs are awesome!
Supplies Needed
How to Make a Mini Easter Basket
Begin by folding a piece of white paper in half to form a triangle.
Fold that paper in half again.
And again.
Now, trace around the outside of the paper to create a rounded edge.
Trim off the excess paper following your rounded lines.
Unfold and set aside to use later.
Follow the same process, on a second piece of paper only tracing and cutting into a pointed edge rather than rounded.
Now, use the rounded template and trace onto the first color (gold) glitter paper.
Cut out the gold piece, and set aside.
Use the pointed template and cut out of your second color (green), and set aside.
Use your scissors to cut between each rounded "petal" of the first color of paper as shown. Don't cut all the way through, just down to the base of each curve.
On the gold side of the rounded piece, you will add double sided table or a bit of craft glue on one side of each rounded petal as shown.
Now, you will flip the gold paper upside down with the white being on top, and fold in each "petal" and connect to the one next to it as shown.
Once all are connected, you will attach the bottom piece.
The pointed piece will attach with white side down and colored side up and attaching to the bottom of the basket base.
Next, cut out a long strip of both colors of foam paper to create a handle.
Attach the green to the gold as shown.
Glue or tape the handle in place with colored side out.
Glue a few fake flowers on top of the handle, and on sides as desired.
Fill with fake grass and treats then gift!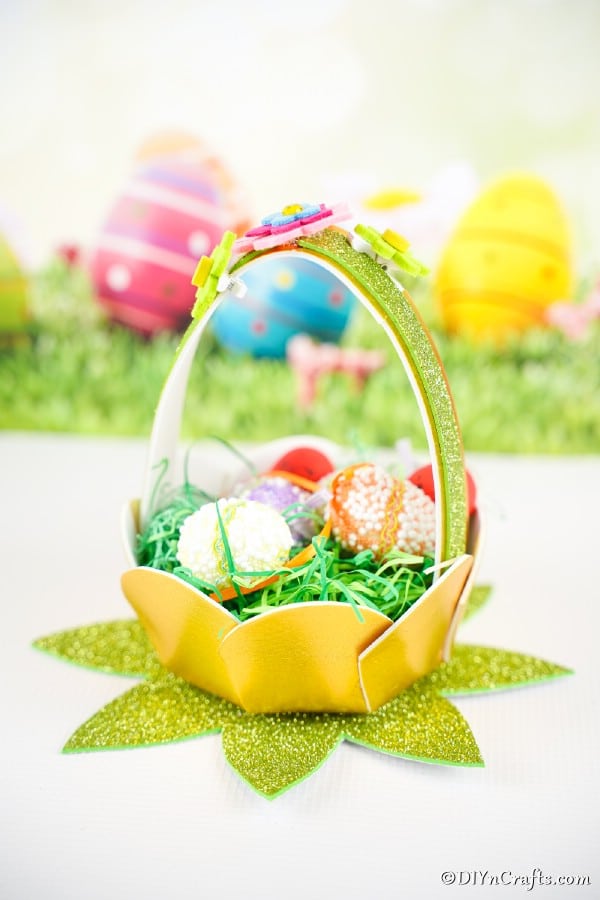 Yield: 1
This adorable miniature Easter egg basket is a great addition to your Easter decorations this year! Fill with treats, toys, or just add to your table as a decoration!
Prep Time 10 minutes
Active Time 10 minutes
Total Time 20 minutes
Difficulty Easy
Estimated Cost $2
Materials
Glitter foam paper in 2 colors
White craft paper
Miniature flower decorations
Fake grass
Tools
Pen or pencil
Scissors
Tape or craft glue
Notes
Make these in multiple colors and use as a table decoration on Easter Sunday!
Recommended Products
As an Amazon Associate and member of other affiliate programs, I earn from qualifying purchases.
Related Content