Decorative Santa Claus Boot from Upcycled Plastic Bottle
There is nothing more iconic with holiday decor than Santa Claus. That's why this cute little decorative Santa Claus boot made from an upcycled plastic bottle is such a cute idea for your mantle this season. The single Santa boot has long been a symbol of Christmas and is a great addition to any decorations around your holiday themes. While this takes a bit more time than some of our other crafts, it is worth every minute spent! The result is adorable and is super easy to customize if you want.
Decorative Santa Claus Boot
We always have a recycling bin full of plastic bottles so why not put them to use creating a fun decoration for the holidays? This little boot is just too cute for words! You can fill it with items like pinecones, holly, evergreens, or even candy. Or, you can just tuck it up on your mantle alongside your other decor.
I love that this is a project you can make together as a family or with your kids. While it may be a bit messier than some holiday decorations, that mess is nothing compared to the smiles your kids will have on their faces as this is finished and proudly displayed. Along with this cute idea, you can also make this rustic Santa Claus decor from old book pages or these cute toilet paper roll Santa and elves to go by this boot. Such cute ideas to add to your holiday!
How do I Add Texture to the Boot?
This is where the mess happens for this boot. I used a simple plaster of Paris mixture to coat the bottles and give the boots a textured look. If you want to go old school, you could also use a paper mache technique to coat the bottles. Sometimes you can even use Mod Podge or tissue paper that has been glued over the bottles and then painted. There are even texture sprays you can use to cover this for a unique look.
Plaster of Paris sets up within half an hour usually so it is a good choice to use if time is an issue, but it can be an issue if working with children as it does get hot as it hardens. Safety first is a must!
Paper mache is safer to use with kids and cheaper, but it also takes a lot longer to dry. You may even need to leave it overnight to be dry enough to paint. So, choose your texture option accordingly.
What Decorations Can I Add to the Boot?
Decorating this is tons of fun because there are so many ways to personalize it to fit your holiday decor. Of course, I used basic items to decorate it, but you can add just about anything to make your boot more unique. Below are some great ways to add a fun look to your boot.
Paint the boot different colors other than red. Green, blue, purple, gold, silver, and white are all options that match holiday themes.
Use lace, leather rope, holiday ribbon, satin ribbon, or basic tinsel around the bottom of the boot.
Add ribbon or lace to look like shoelaces along the middle of the boot.
Create a logo or holiday message to go on the side of the high-top edge of the boot.
Use fake fur along the top of the boot in place of the cotton batting.
Spray the boot with glitter spray.
Add sequins or rhinestones around the bottom edge or top of the boot.
You might want to check this list of Christmas decorations ideas for more inspiration on how to decorate your boots. There are tons of cool ideas on that list to include in your decorating this year but also to add to the boots as an other decoration.
What Size Bottle Do I Need?
For my version of the boot, I used a 1-liter bottle. You could use a smaller bottle like the 16 ounce or 20-ounce bottles common with soft drinks or bottled water. If you have 2-liter bottles, you can also use those. The size of the bottle will determine how large the boot ends up being, so consider this when deciding what to use.
Supplies Needed
How to Make a Decorative Santa Claus Boot
Remove the label from an empty bottle and cut the top and bottom off of the bottle. Dispose of the top portion with the lid.
Glue the bottom onto a piece of cardboard with the bottom facing up and the tube portion beside it with minimal or no gap between the two pieces.
Cut off the excess cardboard from around the edge of the plastic bottle pieces.
In a large bowl, mix a small amount of plaster of Paris according to the package directions. You will need around 1 cup mixed.
Using a craft stick, spread the prepared plaster of Paris over the pieces of the bottle to add a texture and coat all of the bottom piece and the tall piece on all sides but not the top. Set aside and dry.
Once the plaster has dried, spray with red spray paint covering all sides then set aside to dry.
When the paint has dried, use glue to add a length of tinsel or sparkly ribbon around the base of the boot.
Use cotton balls or batting and glue around the top of the tall portion of the boot.
Tie a small bow with sheer ribbon then tie the middle with plain white ribbon.
Add a small holiday-colored bow to the center of the sheer bow and tie both together with a white ribbon.
Glue this onto the boot at the front between the two pieces.
Add additional holiday-themed picks or embellishments as desired around the boot.
Display on your mantle or as part of holiday decoration.
More Christmas Crafts
Add even more decorations to your holiday this year by creating your own unique spins on classics. Below are some great ideas that I have shared here that are ideal for making this year to add to your holiday decor.
Crafting Tip

If you want to make this cute boot but don't want to worry with plaster or paper mache, you can buy a ceramic boot ready to paint. This is a great way to add a cute look to your holiday decor without having to go through all of the work of making the shoe form yourself.
Yield: 1
Follow this easy tutorial to create an adorable decorative Santa Claus boot using upcycled plastic bottles!
Prep Time
10 minutes
Active Time
30 minutes
Additional Time
30 minutes
Total Time
1 hour 10 minutes
Difficulty
Medium
Estimated Cost
$5
Notes
Spray the finished product with glitter spray for a sparkly look to this Christmas decoration.
Recommended Products
As an Amazon Associate and member of other affiliate programs, I earn from qualifying purchases.
Finished Project Gallery
This cute little boot is ideal for holding a holiday scented potpourri to put on your mantle.
I like to add sparkly tinsel to make it really look Christmasy when displayed.
Let your kids sign the bottom with their name and the date to make this a keepsake.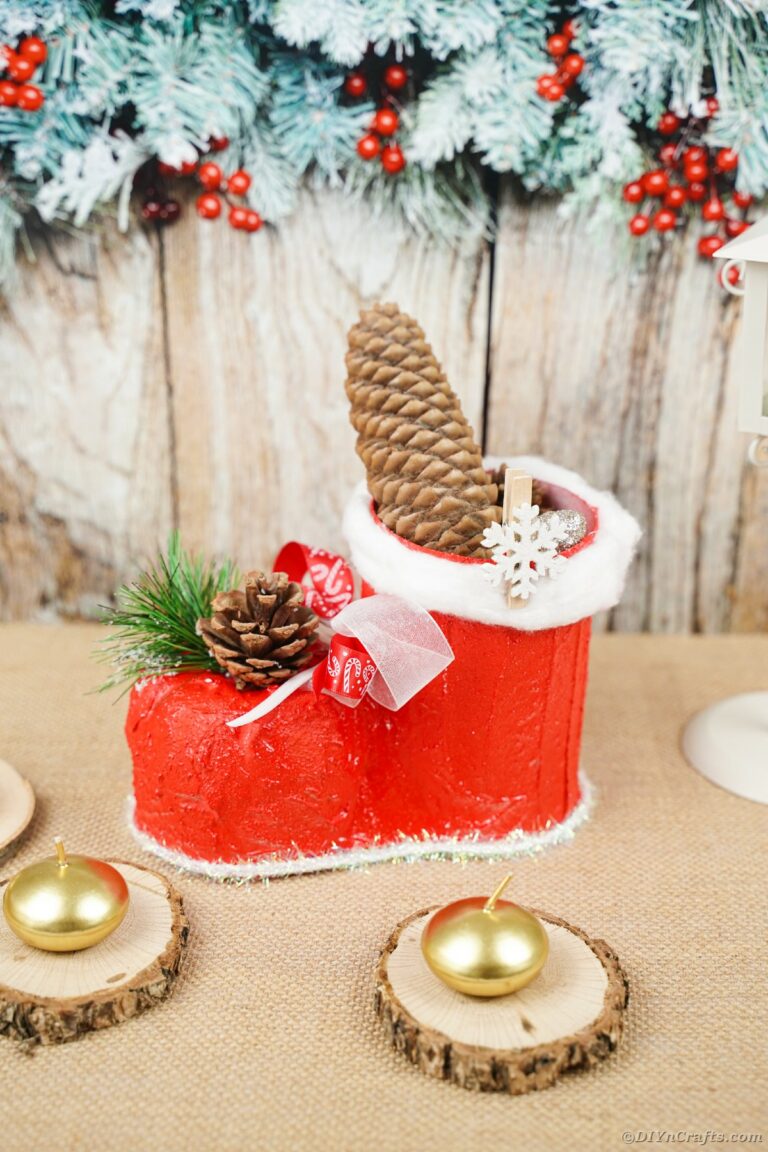 Related Content