Decorative Twine Wrapped Mini Christmas Tree Decoration
Decorating for Christmas is always one of the best parts of my year. This beautiful and rustic decorative twine-wrapped mini Christmas tree decoration is so easy to make and looks great with any decor. It adds a farmhouse style to your holiday, plus happens to be affordable and easy. Make a few of these miniature trees and group them together or make individual ones to place around the house.
Twine Wrapped Mini Christmas Tree
If you like using twine in crafting and like the farmhouse style of decor, this is a perfect craft for you. The best part of this little mini tree idea is that it's ideal for making with your kids. Since you only need a few supplies, it's great for working with a group of children like a school classroom. Being able to easily personalize these with your own style of ribbon and decor also makes it easy for each child to make them unique.
Miniature Christmas trees are one of my favorite projects. From paper straw mini Christmas trees to the rustic aromatic trees using greenery from outside, there are tons to choose from. This year, add this one to your decor list with your own unique style.
How Can I Decorate My Mini Tree?
There are many ways to decorate this mini Christmas tree. This particular style is very classic and easy, but that doesn't mean you can't update yours with something a little different. Below are a few ideas that would look great with this little tree idea this holiday season.
Spray with glue adhesive and sprinkle with glitter.
Add fake snow or cotton batting around the bottom so it looks like it is sitting on snow.
Glue on pom poms, beads, or sequins to create the look of ornaments.
Add a string of miniature lights around it to light it up.
Use ribbon, yarn, or rope instead of the twine around the tree.
Sometimes, like in this case, simple may be best. Just look at these rustic twig Christmas tree ornaments or this pinecone Christmas tree idea. Neither requires a lot of extra items to look beautiful when displayed.
What Glue Can I Use to Attach the Twine?
I almost always reach for hot glue and my hot glue gun when crafting because it is convenient and affordable. If working with little ones, you'll want something a little less dangerous, so you might want a different glue.
You can easily use craft glue of any kind, E6000 glue, or even a spray adhesive for this project. I don't think that Elmer's glue or craft glue would work well, but it is an option if you aren't planning to make this last a long time.
Can I Hang These From the Ceiling?
If you want to add these to the ceiling rather than on a shelf or table, just slip a piece of twine or fishing line through the center of the cone before you seal it. Glue or staple it in place at the pointed tip of the cone, and then it will stick out of the top after you are done wrapping it in twine. You can also add a small hook onto the star or snowflake you put on top if you prefer.
Supplies Needed
How to Make a Twine-Wrapped Mini Christmas Tree
On a piece of craft paper, draw a cone shape, and cut out.
Fold the paper into a cone and staple along the edges to secure it.
Add a bit of hot glue at the top (pointed) tip of the cone and attach twine or yarn.
Wrap the twine around the cone shape keeping in place every few inches with glue as needed. Make sure the twine is snug against itself covering all of the cone trees.
Wrap until the entire cone is covered in twine then cut and glue the end in place.
Attach a small snowflake or star decoration to the top of the tree.
Starting at the top of the tree, attach a holiday ribbon with glue wrapping it around the tree in a spiral to create a garland.
Now you can display your tree alone or in groups of trees as a little holiday forest.
More Cute Christmas Decorations
If you are still looking for more ideas for decorating this holiday season, don't worry, we have tons of great ideas to share. Below are some of my favorite fun holiday decor ideas that are sure to be a hit with you!
Crafting Tip

One of my favorite choices for wrapping around this tree is a nice rich velvet yarn. It adds a bit of extra classiness to the decoration. I shop at Annie's and Knitpicks for the best deals on luxury yarns.
Yield: 1
Make your own simple farmhouse styled twine wrapped mini Christmas tree decoration with simple steps and affordable supplies!
Active Time
20 minutes
Total Time
20 minutes
Difficulty
Easy
Estimated Cost
$1
Notes
Use twine, ribbon, or yarn to wrap your trees. No two trees will be alike!
Recommended Products
As an Amazon Associate and member of other affiliate programs, I earn from qualifying purchases.
Use a variety of colors of twine to create a forest of trees in different shades.
Add miniature bobbles and bells to look more like ornaments.
You can even glue these onto a reclaimed wood piece for a farmhouse style decoration for your mantle or table centerpiece.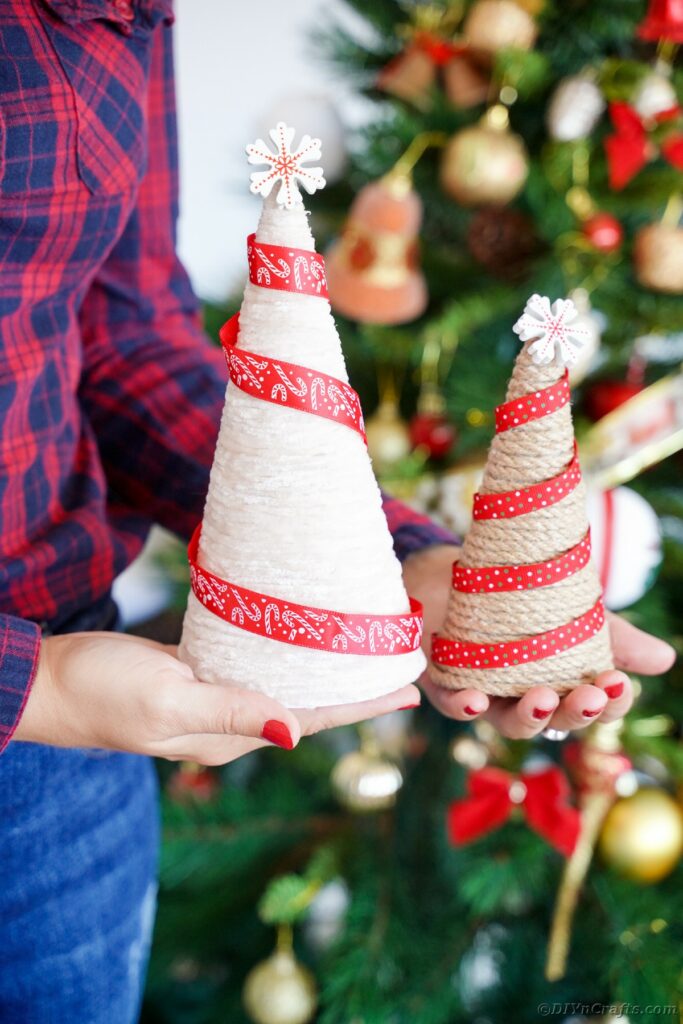 Related Content