DIY Rustic Pinecone Bear Kids Nature Craft
It's that time of year when pinecones are everywhere around Michigan.  That means that they come into the craft closet as the perfect fun craft.  This little rustic pinecone bear is an ideal nature craft for kids.  Help them gather supplies and create their own little bear characters for pretend play and fun outdoors at the same time! 
Pinecone Bear
Gather up the pinecones that have fallen in your backyard and have fun making them a fun new craft!  These little pinecone bears are just precious.  Not only are they easy to make, but they are practically free.  You just need a few items you already have on hand in your craft kit. 
In the past, I have used pinecones for a number of projects.  Recently these little pinecone hedgehogs were a hit with the kids.  Last year, I used them on a plastic bottle to make a different little hedgehog decoration.  Of course, they have also been known to be perfect for Christmas with some great pinecone crafts and even pinecone ornaments on my crafts list over the last few years. 
Do I Need to Clean the Pinecones Before Using? 
If you are gathering pinecones from the outdoors, it is a good decision to clean them before using them.  It's not about sanitation as it is about making sure there is no excess dirt or even little creatures or insects on the pinecones.  
Shake off any dirt or debris outside before bringing them indoors. 
Fill a 1 gallon bucket with water and 1/2 cup vinegar.  
Place the pinecones into the bucket of water and vinegar making sure to submerge them as best you can.  Let them soak for 30-minutes before draining and rinsing the pinecones with clean water.  
Next, place them on paper towels to dry out before using in crafts.  
If you are buying pinecones at a craft store, there is no need to clean them as they have been processed through a facility that takes care of them for you.  When buying from other people on sites like Etsy or eBay, you will want to clean them, just in case for safety. 
What Can I Use for the Feet of My Pinecone Bear? 
For this version, I used acorn caps.  They are always on the ground around our house and yet another free and easy-to-find craft supply.  Since I wanted this to stand up and be sturdy, it has a base from a bottle cap so it can stand without falling over.   
The arms on the sides are made from a split almond or pecan shell.  You can use any long and flat surface nut shell for this if you prefer.  Of course, it doesn't have to be that.  You can also use any of the items listed below if you prefer something not a natural item for the feet or arms on your bear. 
Painted bottle caps.
Brown pom poms. 
Pipe cleaners/chenille stems. 
Buttons or snaps. 
Marker caps from old dried-out markers or pens. 
Pecan, almond, macadamia nut, pistachio, hazelnut, or Brazil nut shells. 
Painted cotton balls or pillow stuffing.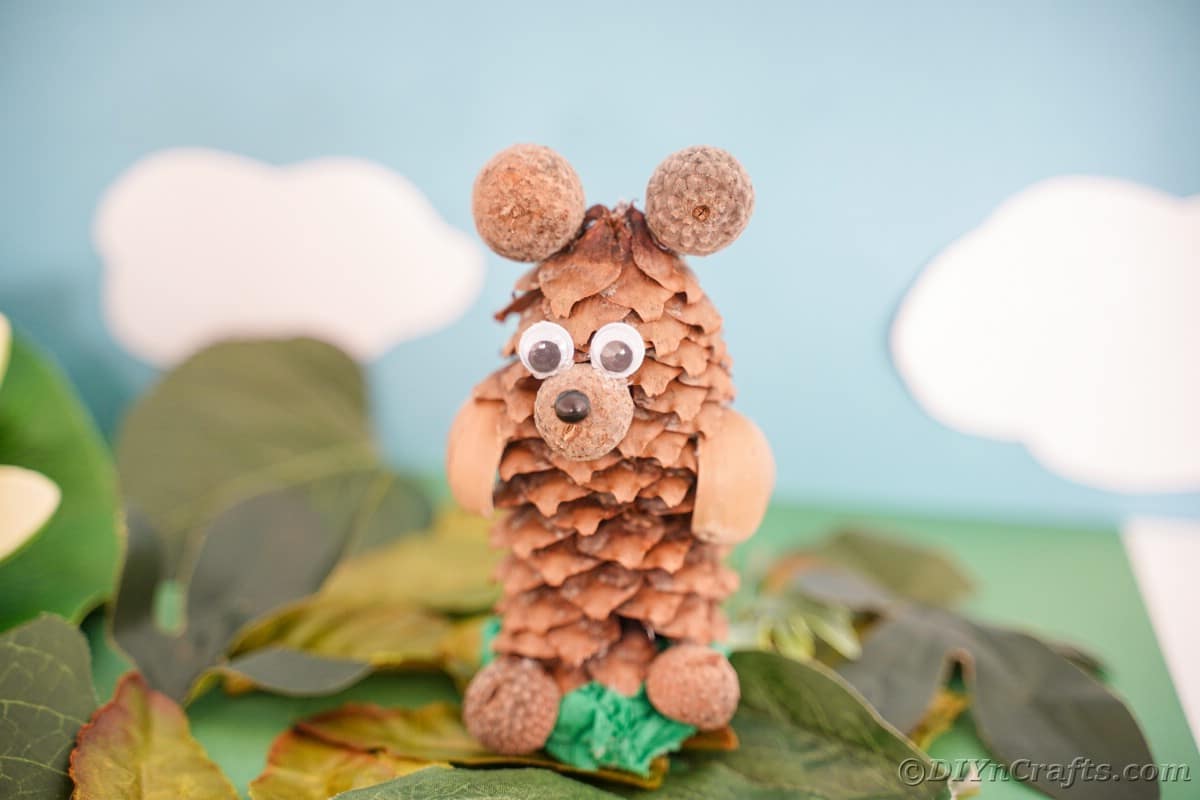 Can This Be Used for a Kids Classroom Activity? 
If you are a teacher or happen to homeschool your children, then this is an ideal option for a fun kids classroom activity.  Not only does it include things like nature walks where you can have kids look for specific items on the ground, but it is great for their motor skills. 
This can also be used alongside books as a unit study, or even just for pretend play with your own kids while you read something like the classic, Goldilocks and the Three Bears, book.  It could even be part of a lesson about bears and the different types and their regular homes or way of life. 
Of course, it can also just be fun to sit on a shelf or include it alongside some decor in a kid's room! There are so many possibilities with this cute little pinecone bear idea!
What Glue Can I Use That is Safe for Kids? 
If this project is for making alongside the kids, you'll want to be safe.  That means you won't be using hot glue guns for this unless working with teens and adults.  So, you need a good glue that will stick to the pinecone but be safe if little ones get it on their hands. 
I prefer Aleene's Tacky Glue for projects like this.  It's affordable and easy to find, as well as being non-toxic.  While you could use a basic Elmer's school glue or similar, you will find that the pieces are more likely to fall off easily as it won't be as good a hold.  
Supplies Needed
How to Make a Pinecone Bear
Cut an 8″x3″ strip of tissue paper and crumble it into a ball.  
Glue the tissue paper inside a medium bottle cap. 
Glue the flat end of the pinecone on top of the tissue paper. 
Attach two acorn caps to the bottom front of the pinecone with glue. 
Also, add two acorn caps on the very top of the pinecone sides, to look like ears. 
Glue a single acorn cap about 1″ down from the top.
Add googly eyes just above and on either side of the acorn cap on the pine cone. 
Glue a black bead to the front of the acorn cap to create a nose.
Cut an acorn in half, discard the nut.
Using just the shell, attach with glue on either side of the bear, halfway down the body as arms. 
Now you have a cute little bear made of natural elements!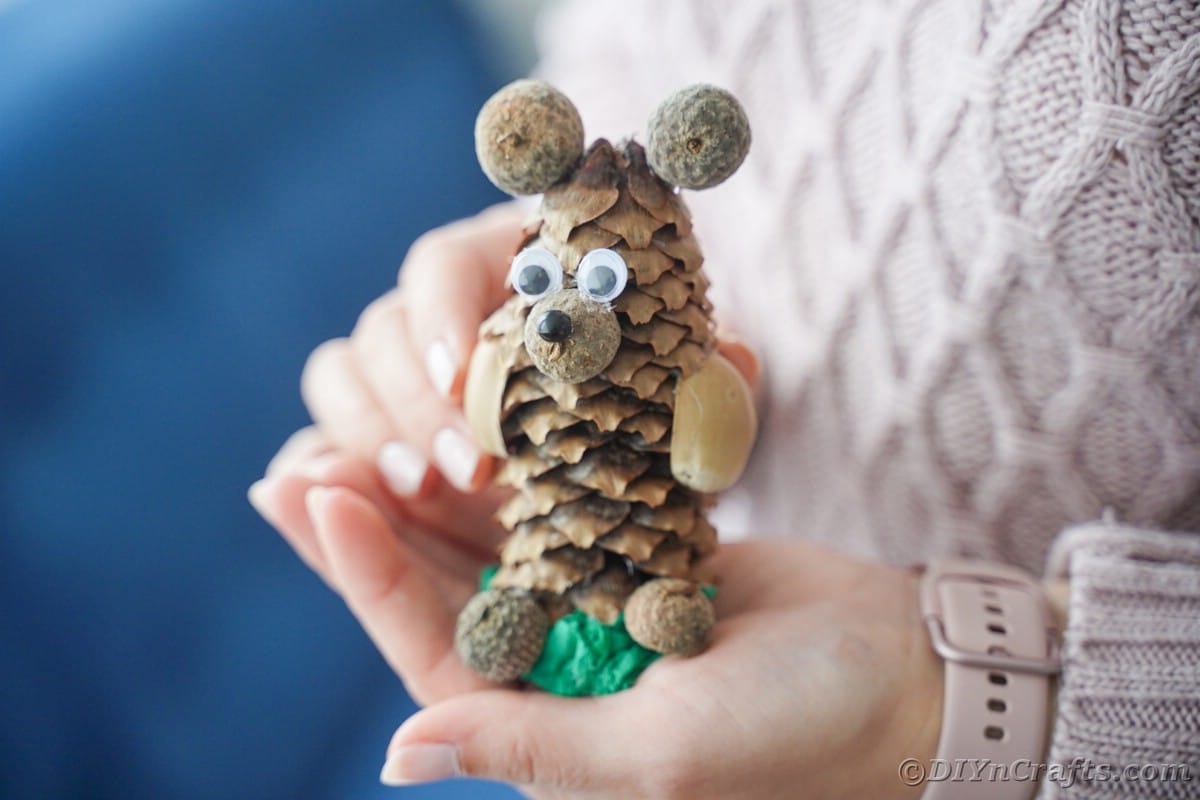 More Fun Kids Crafts
If you are looking for more ideas to keep the kids busy and happy creating, don't worry – we have plenty!  Along with some of the other pinecone crafts we listed above, I have tons of fun ideas to share that are perfect for making with your kids.  Below are a few of my favorites for you to pin, print, or bookmark to make soon! 
Yield: 1
Make an adorable little pinecone bear with just a few supplies! An excellent kids nature craft for fall and winter!
Active Time
15 minutes
Total Time
15 minutes
Difficulty
Easy
Estimated Cost
$1
Notes
Can replace googly eyes with beads or buttons for a more unique look.
Recommended Products
As an Amazon Associate and member of other affiliate programs, I earn from qualifying purchases.
Finished Project Gallery
Use these in kids' dioramas to learn about bears and other woodland creatures. 
Add a scarf or hat to make them look even cuter. 
A pink bow on top or a blue bow tie can be used if you want!