Easy DIY Chestnut Bat Kids Halloween Craft
Looking for an adorable and simple Halloween craft idea? These chestnut bat kids Halloween craft is super easy to make. Using a few basic materials, kids can create these bats to hang around the house as a fun hands-on decoration. Simple to make, inexpensive too, these bats are cute but not spooky Halloween decorations!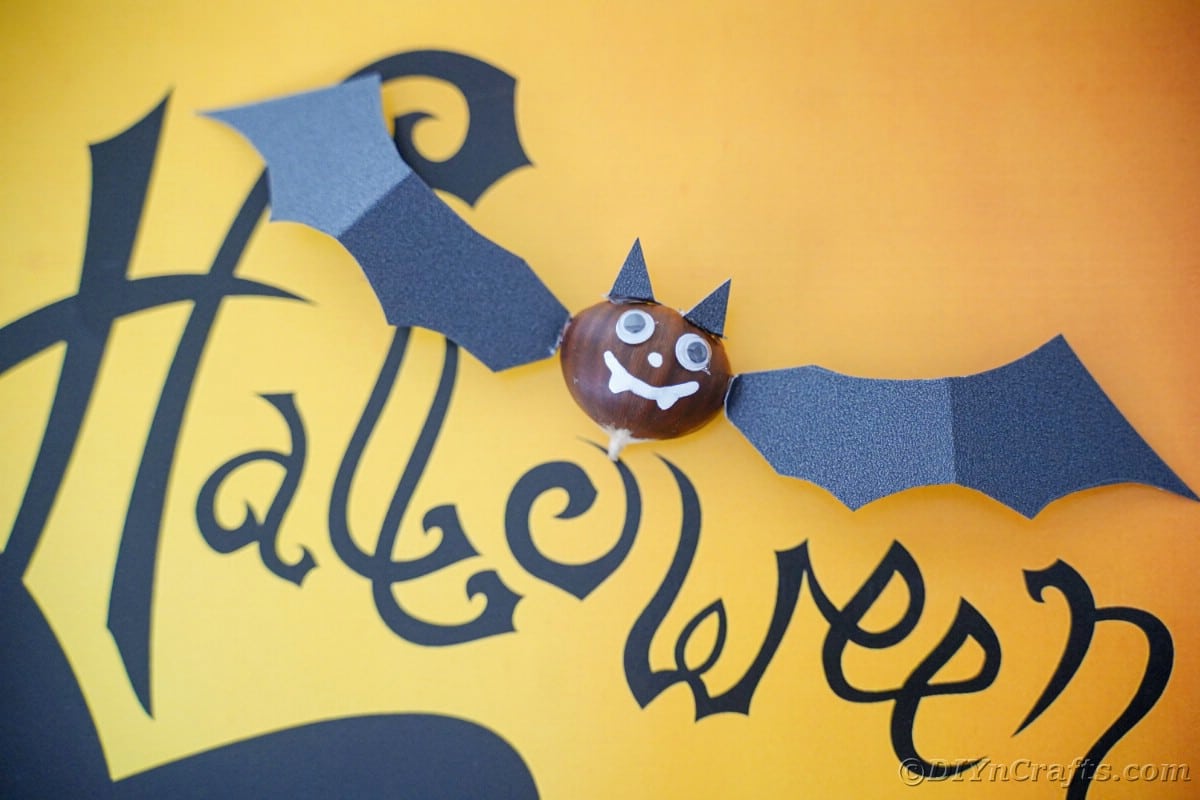 Chestnut Bat Kids Halloween Craft
Making this little bat idea is easy and does not take a lot of time or materials. Kids will love being able to create these bats and then display them for everyone to see. With mostly household materials, kids will be able to make a cauldron (large group) of bats.
What is great about these bats is that there is almost nothing to buy. With the exception of the chestnuts, most people have enough of the materials or at least something that they can use, to make the bats already on hand. For many people, even the chestnuts are on hand. If you have to buy a bag, now you have a delicious treat to snack on while crafting with the kids this Halloween.
If you like using nuts or shells to craft with, you will love this rustic fall wreath. It's beautiful and so easy to make!  You can also make these cute glitter acorns and add them to a bowl of fall potpourri for a sparkle and fun addition to your decor.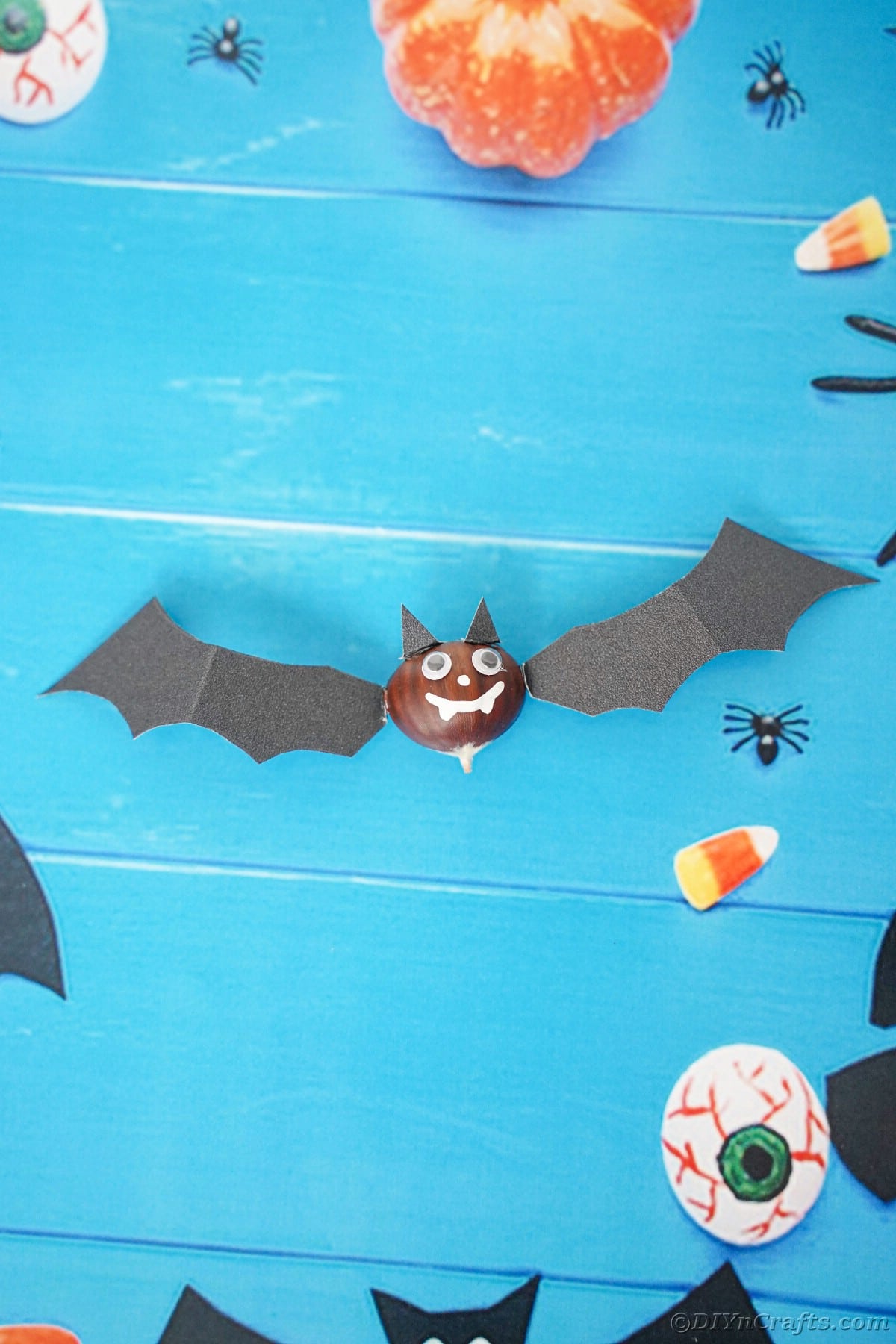 Can I Use a Different Nut Other than Chestnuts?
You don't have to use a chestnut to make these bats. It is important to use something that has a smooth surface, like a pecan. The smooth surface allows the body of the bat to look natural as well as makes it easy for the materials to stick to the shell.
Some ideas include hazelnuts, macadamia nuts, acorns, pecans, and of course, you can use things like painted bottle caps and similar if you prefer.  It doesn't have to be made with a nut for the head if you don't want to do that.  We've even used an upcycled plastic spoon bat as a decoration!  The possibilities are endless. 
What Other Ways Can I Make the Wings?
If you want to make their wings out of something other than what I used, you can use pretty much anything you can cut into shape. Below are a few ideas that could work for this project.  Many of these items already come in black or could easily be painted black. 
Foam paper or craft foam
Paper plates
Cardboard
Posterboard
Cardstock
Fabric with starch or Mod Podge to stiffen 
What Should I Use to Make the Face on My Bat?
The face is key to the cuteness of this bat kids Halloween craft. So you want to make sure it looks great.  A paint pen is super handy and what I used, but you can grab whatever you have on hand and create your own little smiling or frowning bat face. 
You can use something as simple as googly eyes to make the face. Another option that is a bit messier is to use paint, with a paint brush, or you can use a paint pen as I did.
Depending upon the surface, you can use a permanent marker for this face. In addition to these suggestions, you can also use things that you have laying around like felt, yarn, and buttons. It is fun look around the house and get creative.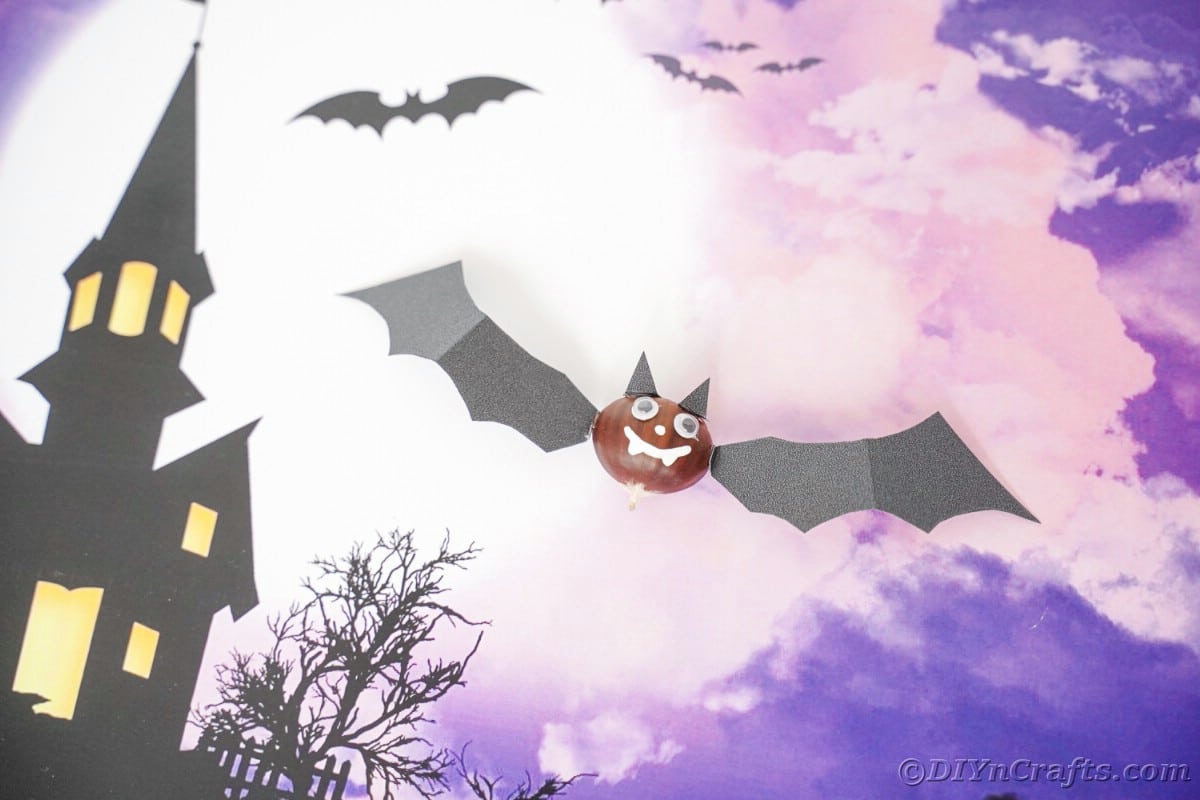 How Should I Hang This Bat?
This bat kids Halloween craft is so cute once it is hung and displayed. Hanging them can be super easy with just a few things.  You'll want to decide if it should be sitting upright (for hanging on a wall or wreath)or with the face looking out or down (for hanging from the ceiling).  Once that is decided, you can attach one of the ideas below to create a way of hanging this from the wall or ceiling. 
Fishing line
Twine
Rope
Ribbon
Ornament hook
Command hook
Pushpin or thumbtack
Will the Chestnut Go Bad?
Chestnuts can go bad after they have reached a certain age. While they may last for a considerable amount of time, they can also begin rotting fairly quickly depending upon location, openings in the nut, etc. 
That is the case with these little chestnut bats.  While it is special to keep the crafts that your kids create, since these chestnuts will go bad, you do not want to keep this one. It is best to throw away the chestnut bats after the Halloween decorations are taken down.
Supplies Needed
How to Make a Bat Out of Chestnuts
On a piece of black craft paper, trace the scalloped-edged batwing shape.  
Cut out one wing, then use it as a template to trace a matching second wing.  Set these aside. 
Using the same piece of paper, cut out two small triangles and set them aside. 
On the center of a chestnut, use a white paint pen to draw a smile with two dots for fangs on the bottom and a small dot just above for the nose. 
Using hot glue, attach the googly eyes just above the white nose. 
Fold over the bottom (not pointed) end of the triangles so you have a very small "lip".  Glue these to the top of the chestnut with hot glue or craft glue. 
Fold the two wings in half at the same point to create "movement" of the wings.  Then, on the very edge of the widest part, fold over a small piece to create a "lip" for attaching to the chestnut. 
Glue the wings in place on either side of the face.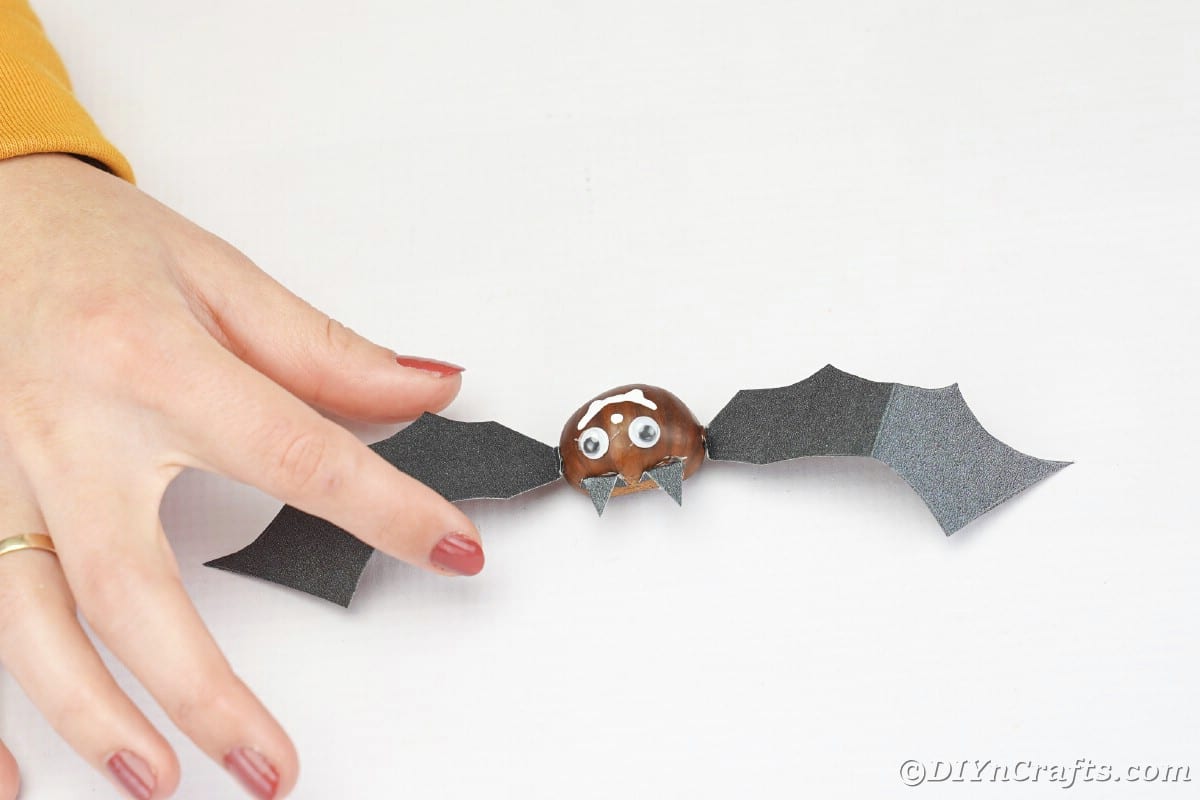 If hanging the bat, attach a hook using hot glue. 
Display your bat for your Halloween party!
More Easy Halloween Crafts
One of my favorite seasons to decorate for has to be Halloween.  So many adorable little ideas that are fun for kids, and of course, plenty of spooky things for the adults.  Below are some of my favorites for you to make this year!
Yield: 1
Grab a few simple supplies to make this adorable and easy DIY chestnut bat. The perfect kids' Halloween craft!
Active Time
10 minutes
Total Time
10 minutes
Difficulty
Easy
Estimated Cost
$1
Notes
Hang the bat from the ceiling as a fun new Halloween decoration.
Recommended Products
As an Amazon Associate and member of other affiliate programs, I earn from qualifying purchases.
Make a bunch of these and string along the mantle for a fun garland. 
They also make great toppers for gifts around Halloween!