Easy DIY Pom Pom Hedgehog Kid's Fall Craft
Have you ever made homemade pom poms? If so, then you know just how fun and versatile they are, and this easy homemade pom pom hedgehog is a great kid fall craft example. With just a few minutes, a bit of glue, yarn, and some beads, you've created a beloved woodland creature. Versatile for kids to play with, decorate their rooms, or even use as baby shower decor!
Pom Pom Hedgehog
We have made tons of unique things using yarn, and pom poms are definitely some of my favorite. They are super versatile and can create things like this yarn pom pom cloud wall art, or even a beautiful pom pom rug. I've even made yarn pom pom flower arrangements! So, when it comes to making hedgehogs, of course, this was a natural idea!
Can I Use Store-Bought Pom Poms for This?
Of course you can! While I love the idea of homemade because they are much softer and more fun to make, if you need or want, you can definitely use a store-bought pom pom. Just remember that they are more expensive when you get larger ones for this project. Plus, you won't have that fluffy soft "fur" as a homemade pom pom creates.
Can I Use This Method for Other Animals?
As a matter of fact, it definitely can! You can use pom poms to make a ton of different animals and creatures. Below are some we've already made using this technique. Use this for inspiration and create your own!
You could also use this idea to make mice, bears, dogs, cats, and more! While not an animal, we've even made these cute little Christmas pom pom gnome ornaments before using the same homemade pom pom process!
What Can I Use to Make the Ears on My Hedgehog?
I grabbed some leftover foam paper I already had on hand to make the little ears on this hedgehog. It's a great choice because they will stand up stiff on top of the head and not flop over. There are a few other options that also work well for this project.
You could use cardstock, painted cardboard, felt, or even fabric that has been sprayed with starch to hold its shape. I also love the idea of using a pecan, walnut, or acorn shell. If available, you may also find little crafted ears for other miniature projects at your craft store. Use your imagination and make them look cute with what you have on hand!
What Can I Use This Hedgehog For?
Little projects like this are just so versatile! I love knowing that you can use it for a number of things so it won't ever be a wasted craft. There are a few of my favorite ideas below for you to consider.
Baby or child's room decor. Add to a shelf with other woodland creatures or hang from the ceiling.
Pretend playtime with kids learning about small animals.
Part of a baby shower gift.
Decoration for a baby shower or gender reveal party.
On the mantle as part of fall or autumn decor displays.
What Can I Use to Hang My Pom Pom Animals?
If you decide that hanging your little hedgehog is the plan, then you'll want something to secure it from the ceiling or doorway. For items like this, I tend to use clear fishing line. It can hold a lot of weight, doesn't look unusual, and is super affordable.
Alternately, you can add a length of matching yarn, twine, or even ribbon around or on top of the hedgehog before hanging. Just make sure whatever you use is attached securely and doesn't distort the shape of your animal.
Supplies Needed
This craft idea is ideal for using leftover scraps of yarn or foam paper. In fact, before you go out shopping, check your craft bins to make sure you don't already have what's needed on hand to make this cute little creature! If on a budget, check your local Dollar Tree for skeins of yarn for only $1 each!
How to Make a Pom Pom Hedgehog
Wrap the light brown yarn around your fingers about 50 times until you have created a nice-sized bundle.
Clip the end of the yarn, and then wrap it around the middle of the ball of yarn and slide off of your hand.
Tie the middle to secure.
Cut through the yarn on both sides of the tie in the middle.
Fluff the pom out and create the rounded shape, then use the scissors to trim the edges until it is even and ball-shaped. Set aside.
Repeat the same process with the dark brown yarn, making sure to make it about twice as large.
Attach the light brown pom pom to the dark brown pom pom with hot glue.
Trim any excess yarn if needed to create a nice smooth shape on the light pom pom to look like a head.
Glue on two beads for the eyes and one for the nose.
Trace a small oval ear shape onto dark foam paper. Repeat.
Trace a smaller oval ear shape onto light foam paper.
Glue the light piece onto the dark piece.
Then, glue the base of each ear to the dark brown pom pom, just behind the head of the hedgehog.
Now you can hang, play with, or display your hedgehog!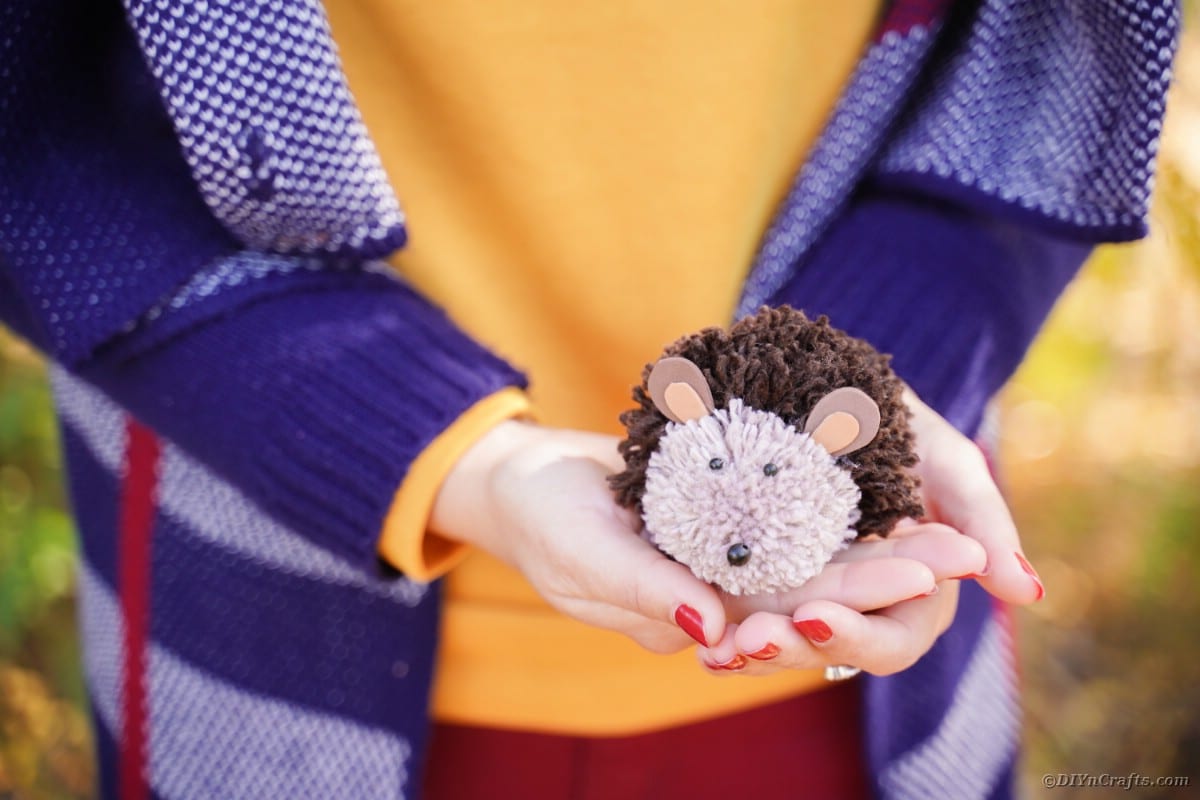 More Fun Hedgehog Crafts
If you are as big a fan of the cute little hedgehog as I am, then you definitely will want to check out these other fun crafts. I love being able to share some of my favorites with you! Make sure to pin, print, or bookmark these crafts to make soon!
Yield: 1
Grab the yarn and in just a few minutes you can create this cute little pom pom hedgehog! A perfect fall craft for the kids or a fun project for your next baby shower!
Active Time
15 minutes
Total Time
15 minutes
Difficulty
Easy
Estimated Cost
$1
Notes
Replace the beads with googly eyes if preferred. Can also use red or pink yarn glued in place for the smile.
Recommended Products
As an Amazon Associate and member of other affiliate programs, I earn from qualifying purchases.
Display your finished pom pom hedgehog alongside other fall-themed items for a fun and whimsical addition kids will love helping you make!