Easy Handprint Hedgehog Preschool Kids' Craft
Every mom and dad has at least one handprint craft hanging on a refrigerator or a filing cabinet from when their kids were little. This year, you can make this adorable little handprint hedgehog with your kids! It's not specific to a holiday or event but is tons of fun to make and ideal for the little ones in the toddler and preschool age group to help create.
Handprint Hedgehog
This project is a perfect preschool kids' craft that combines two of my favorite things. Handprint crafts and hedgehogs! Hedgehogs are adorable little woodland creatures that all kids love to see. While they aren't as cuddly as a puppy, they are adorable, so getting kids to make one out of paper is a sure win.
We've made a handprint chicken for springtime, and I even have a list of handprint Halloween crafts, so of course, a little hedgehog fits into the mix. Whether this is for fall decorations, a class activity, or a homeschool lesson on woodland creatures, it's a perfectly cheap and easy kids' craft!
What Paper Should I Use for Making Handprints?
One of my favorite things about this is that the handprints can be made using any paper you want or have on hand. Of course, I grabbed some craft paper for this example, but you can mix it up and make it even more unique. Some ideas are below.
Just because this one was made with fall color and basic paper doesn't mean you have to do the same. Turn your hedgehog into a punk rocker with purple and gold or make it natural with tan, cream, and brown. Just have fun making it!
What Should I Use to Make my Hedgehog Face?
The face is really what makes it fun. If you are making these with little ones, you want easy options for them. For those who are doing this on their own or with older kids or even teens, get creative with what you have on hand or something unique. This version uses foam paper, googly eyes, and a marker. Below are some more ideas that work great for this project.
For the eyes: buttons, beads, foam paper, or marker
For the mouth: yarn, twine, ribbon, marker, paint, or stickers
For the nose: buttons, beads, foam paper, marker, stickers, pom poms
This can be super artistic and have a unique look with different textured papers, glitters, or even sequins. Or, it can remain simple and childlike as shown. What you do to make it your own is truly up to you! Just have fun and don't overthink the process.
How Can I Display This Craft?
Handprint crafts are typically given as a "gift" to parents and grandparents. This one can definitely be a gift for anyone, but it's also a cute little decoration.
I love the idea of kids making these to put inside a shadowbox or frame with the date and their name. They can hang it in their bedroom as their own custom artwork. Of course, the hedgehogs also are ideal for use as decor for birthday parties or baby showers. Just add a bit of a fishing line to the back and hang them from the ceiling.
You can even just use the magnet and put it on the refrigerator. Whatever you do with them, make sure your child or helper knows how much you love it and how excited you are that they made it!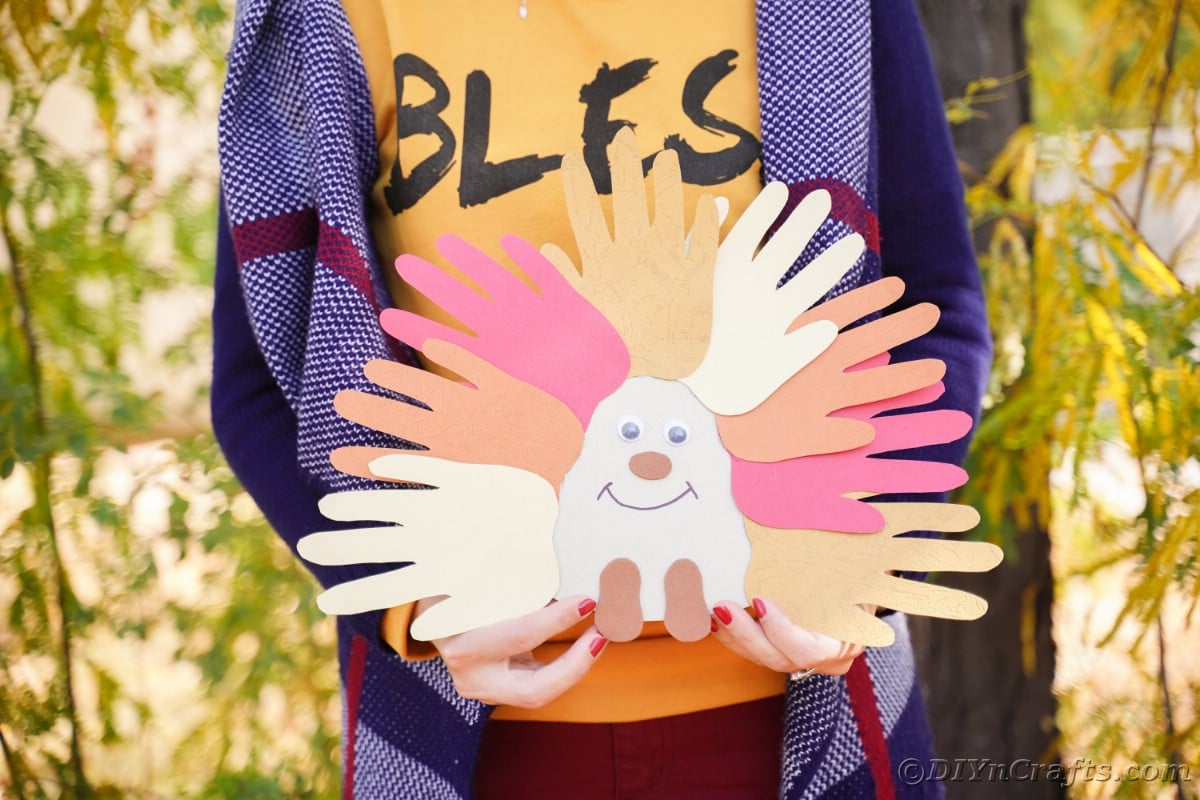 What Kind of Glue Can I Use to Make This with Kids?
Hot glue is my go-to choice because of its convenience and affordability. That said, it's not a safe choice for children. So, you want a different choice for this project.
For a longer-lasting glue, I would recommend a craft glue, E6000, or Gorilla Glue. However, depending upon the age, you may still want to avoid those items. If all else fails, good old-fashioned school glue works wonderfully for this with younger kids. Just make sure you allow the hands time to dry in place before letting the children move the project around or take it home.
Supplies Needed:
How to Make a Handprint Hedgehog
Trace a pear shape onto craft paper that is approximately 6 inches wide at the bottom.
Cut this out and set it aside.
Trace hands onto 8 to 10 pieces of paper in various colors.
Cut out the hands and set them aside.
Trace and cut out two peanut-shaped pieces for feet and one rounded nose out of the brown foam paper.
Then set those aside.
Place the craft paper larger body onto a flat surface, then carefully glue the handprints around the outer edge of the body, overlapping slightly and alternating colors. Make sure the palm of the hand is glued and the fingers are pointing outward.
Glue googly eyes at the top of the body just below the hands.
Next, glue the oval foam piece just below the nose as eyes.
Glue the two feet so they slightly hang off the bottom of the hedgehog body.
Use a marker to draw a smile below the nose.
Now you can display your handprint hedgehog!
More Hedgehog Craft Ideas
Hedgehogs are just so cute that you just can't avoid how much you love them. The real things are my favorite, but in a pinch, a fun craft can really make your heart happy. Bring a smile to your face and have fun with the kids making some or all of the hedgehog ideas below! Make sure you bookmark, pin, or print these to make soon!
Yield: 1
Grab the kids to make this easy handprint hedgehog preschool kids' craft! A super easy, fast, and affordable option the kids will love helping you make.
Active Time
10 minutes
Total Time
10 minutes
Difficulty
Easy
Estimated Cost
$1
Notes
Make the hedgehog body with heavy cardstock or cardboard then add a support piece at the back so it can stand up on its own.
Recommended Products
As an Amazon Associate and member of other affiliate programs, I earn from qualifying purchases.
Finished Project Gallery
Experiment with different papers to make each of your hedgehogs look unique.
Write the date and child's name on the back for looking back at in years to come.
Hand as the center of a garland on your mantle with other paper hedgehog ideas around it.
Most of all – have fun making these with your kids!