Mini Christmas Tree from Old Blue Jeans
I'm a huge fan of adding an absolute ton of Christmas trees all around our house as soon as the Christmas season hits. This year, we are adding some of these cute little mini Christmas trees from old blue jeans to our decorations in the den. They are a bit more casual than some I have to display, and really fit the relaxed atmosphere of that space. This tutorial is super easy to follow and will give you a great little tree to add to your holiday decor!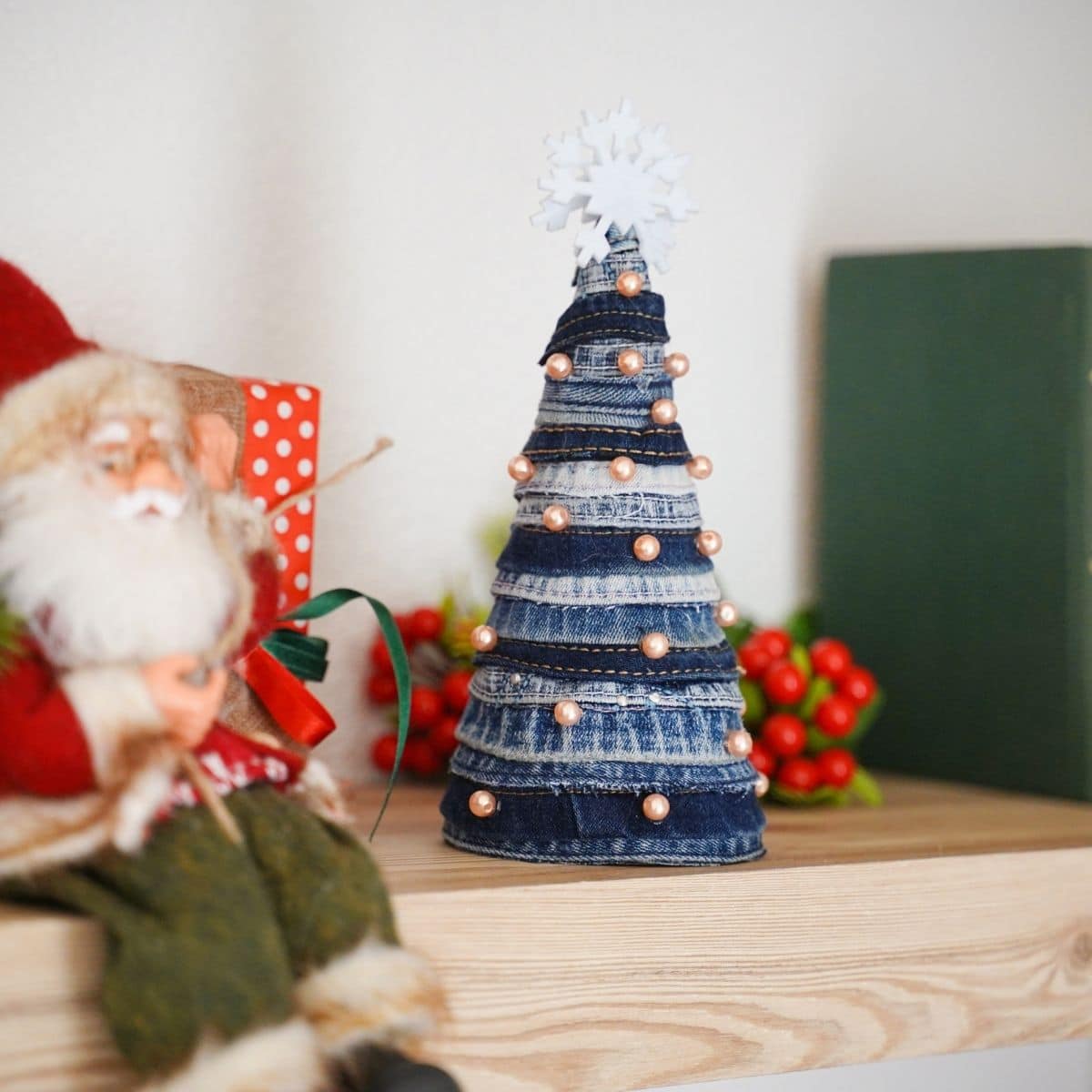 Mini Christmas Tree from Old Blue Jeans
When you are looking for ideas to decorate this holiday season, one of the first things that you think of is the tree. This year, you can add a few of these cute little mini Christmas trees to your decoration list and upcycle old blue jeans at the same time! It's so easy to make and will look beautiful sitting on your mantle, an entry table, or even as part of a holiday village decoration.
This mini tree is a gorgeous and easy to make decoration. It makes an amazing gift that can be personalized and is a wonderful way to reuse something that might otherwise be thrown away. Make some for your home or to give as gifts! If you like this idea, make sure you check out my huge list of mini Christmas trees to create even more cute additions to your holiday decor.
What Ways Can I Decorate My Tree?
When you are thinking about decorations for the mini Christmas tree, you want to think about what you would put on a real tree when decorating. You can use things that are similar to decorate your miniature tree, but you might also want to think about what would look good with the rustic denim style. Below are a few ideas that I love for this little project.
Add tinsel or miniature garland around the edges of each layer.
Glue on beads, stars, or snowflake embellishments.
Add a miniature star to the top.
Glue on rhinestones or sequins for sparkle.
Spray with glitter spray to make it all shiny.
What is Best for Cutting Blue Jeans?
To make your jeans become a tree, you have to, of course, cut them into strips. A good pair of sharp scissors is needed to cut them, but you may be worried that wouldn't work or that you would struggle. For cutting fabric, I have always preferred using a rotary cutter. If you are able to do that when making this project, it's probably the easiest way to cut the denim.
When cutting fabric or any other project with a rotary blade, I recommend using a cutting mat for safety. This helps keep your surfaces from being damaged while working on your next little mini tree.
What do I Use As The Tree Base?
I used a piece of card stock to create the form for this tree. This is cheap and easy to find, so of course, a great choice. Of course, you can use a number of different items as a base for your tree. I like the idea of using a paper form or even a foam cone that you might find at your local craft store. I've even seen them in my local Dollar Tree in the craft section for only $1!
How Can I Use This in My Holiday Decorations?
This little denim tree can be added anywhere you would put other holiday decorations. I love the idea of adding it next to a little holiday village as a unique addition to the display. You could also make these in a few different sizes and create a display on your mantle using different colors of denim for each tree.
If you want, they could also be used as decorations for a table, centerpiece, or even added on top of bookshelves if you want. Use your imagination and add them throughout your decor as you wish to make your home look festive this holiday season. It would even look great next to this display of flowers made out of old jeans. Such a fun idea!
Supplies Needed
How to Make a Mini Christmas Tree from Old Blue Jeans
Cut strips of denim about 1/2″ wide and a variety of lengths.
I made mine in 2″-6″ lengths.
Cut a cone shape out of black paper.
Glue the paper into a cone.
Starting at the bottom of the cone, begin gluing the strips of denim around the cone.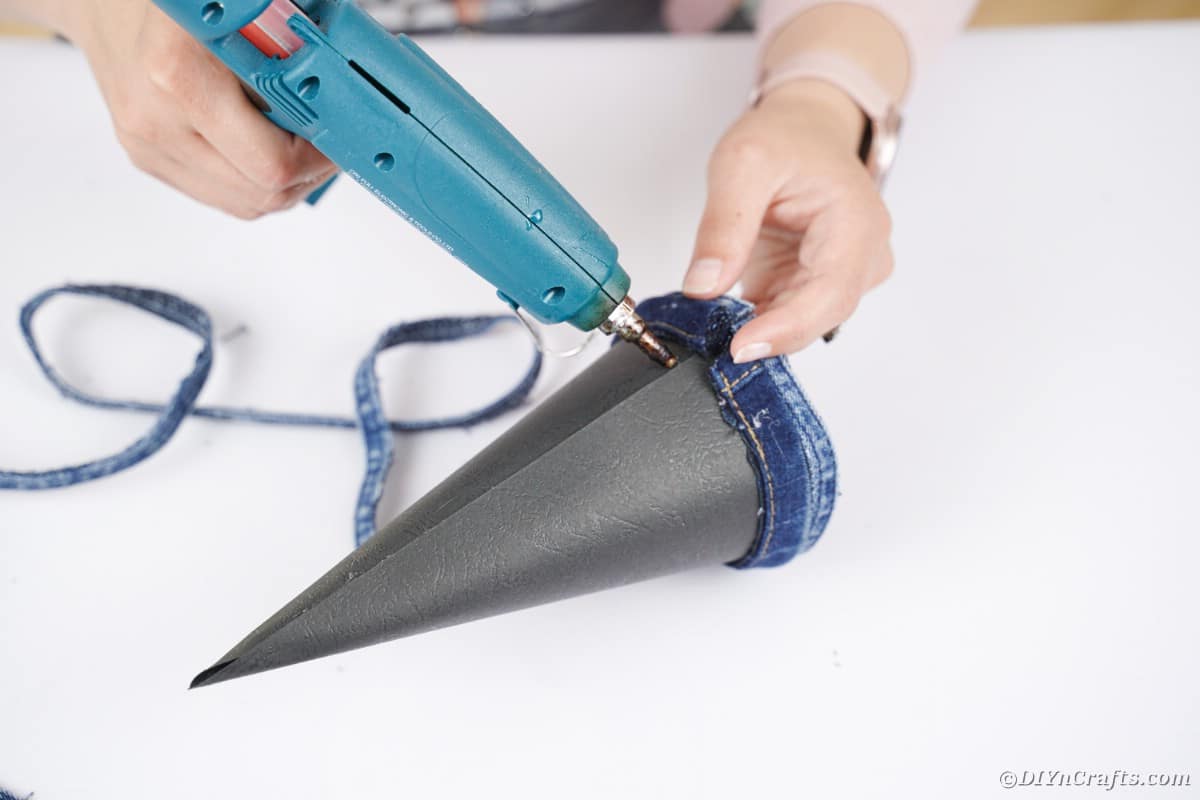 I used different shades of denim and alternate these to make a cute varied look.
Once the cone is covered in denim, glue a star at the top of the tree.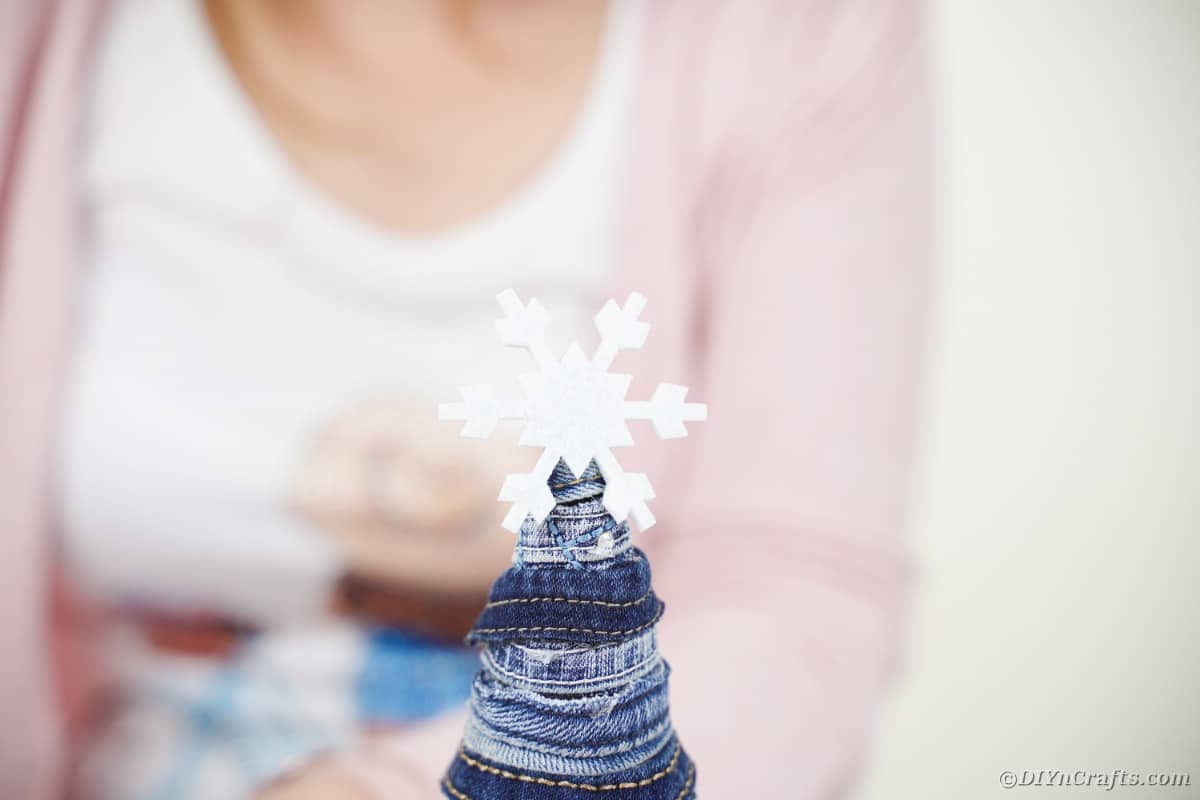 Next, decorate the tree with beads or other decorations you prefer.
Display your tree for the holiday season!
More Blue Jean Crafts
If you have leftover blue jeans after making your holiday tree, you can use it for other cool ideas. I love crafting and upcycling is especially important to me. So, using old blue jeans is a natural addition to my crafting. Below are a few more ideas that you can create to use up the rest of your leftover denim scraps.
Crafting Tip

If you don't have any denim on hand that needs to be recycled, you can actually purchase bundles of denim seams or denim strips to use in projects like this. I love helping small businesses, and when they have something like this for sale, it helps a lot for my crafting!
Yield: 1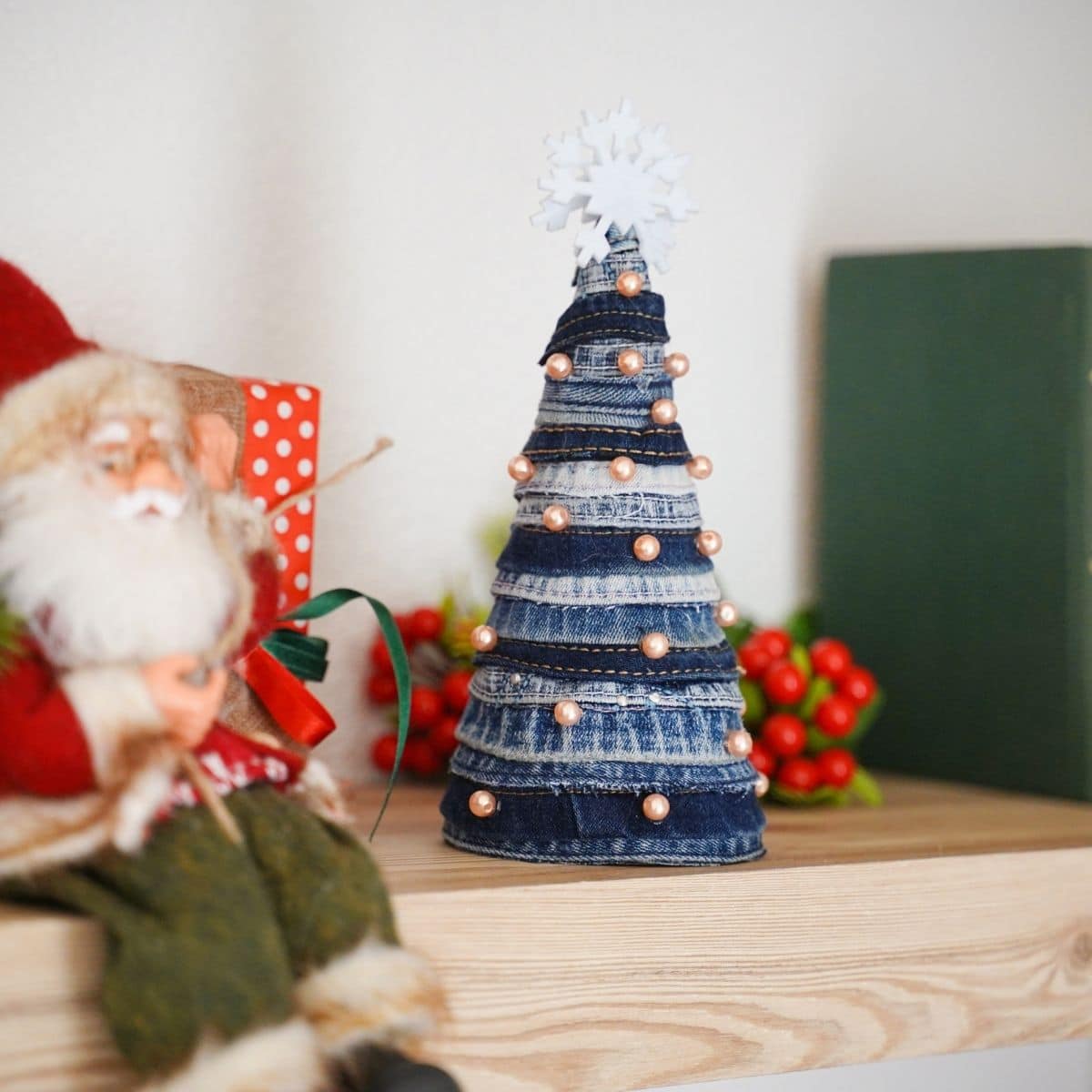 Turn an old pair of blue jeans into this cute mini Christmas tree! A great project that is upcycling and decorative, this is a fun weekend craft for the holidays!
Active Time
15 minutes
Total Time
15 minutes
Difficulty
Easy
Estimated Cost
$2
Notes
You can use any color or wash of denim for your tree.
Recommended Products
As an Amazon Associate and member of other affiliate programs, I earn from qualifying purchases.
Finished Project Gallery
Add miniature ornaments or tinsel to your tree if desired.
Display this on your mantle, with other holiday decors, as a stand-alone centerpiece.
You can even use dyed denim in different colors to make your tree more unique.
Related Content