Royal DIY Valentine's Day Paper Crown
Celebrate with a super cute and easy to make Valentine's Day paper crown! I love how easy this project is, but mostly how my kid's faces light up when they see them.
It is great to add this simple paper and foam paper crown to their place setting on Valentine's morning. Then, they are royalty all day long!
Valentine's Day Paper Crown
I like to celebrate every holiday that I can with fun things for my kids. Anything that makes them smile and feel special is a must. In this case, a paper crown is perfect to start their day on Valentine's Day.
I want them to know they are important to me and the real loves of my life, so why not make them a royalty for the day?
This craft is easy to make for kids and adults alike, so can easily be a project to make alongside your children. I liked adding hearts to the outside, but you could add flower shapes, fake jewels, or even pearls if you wanted.
Decorate your crown however you wish to make a perfect addition to their holiday celebrations. I like adding this cute pencil cupid's arrow craft beside their plates alongside the crown. It's a fun gift, but it also is great for their school day!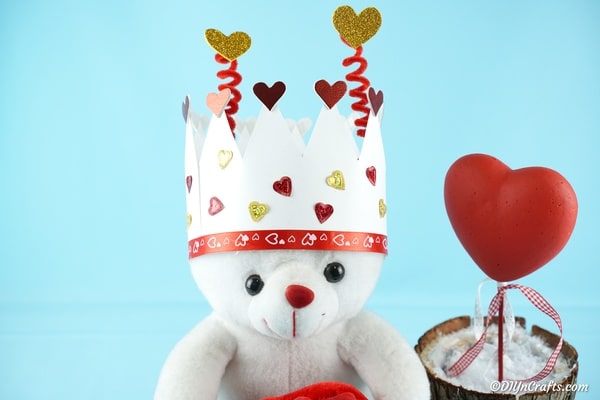 I am always looking for easy and fast crafts to help decorate for holidays. You'll love my cute burlap heart garland, and of course, you can't go wrong with the happy paper heart decoration to hang on the wall.
They are both ready in minutes!
What's the Best Paper to Use for This Crown?
For this Valentine's Day paper crown, I used a thicker card stock. Posterboard is another great choice as it is larger and easier to cut into one long strip rather than piecing together pieces of card stock.
Just make sure whatever you choose is sturdy enough to hold up to the weight of your decorations, but still flexible enough to wrap into a circle as shown.
If you have any leftover glitter paper from this craft, you can make my glittery paper heart wreath. It looks great on your door or as a decoration on the wall in your dining room for Valentine's Day morning.
Of course, you could also use the extra to make this glitter heart flowers bouquet instead. Much better than real flowers since this will last for years instead of days! Finally,
I made this framed glitter hearts project a few weeks ago and just adore it! So cute and easy!
Supplies Needed
White poster board
Pink paper
Gold glitter paper
Red glitter paper
Valentine's themed ribbon
Red pipe cleaners
Scissors
Craft glue
Black marker
How to Make a Paper Crown
Begin by using your pencil to draw a crown shape onto the larger white poster board or craft paper. Use a ruler to draw a straight line on your board, then measure out the top of the crown as shown.
For this, I used a ruler to measure out my "spikes" on the crown so they were even and straight.
Now, you will cut out your crown, and set it aside.
Next, you will cut out circles and hearts from the foam paper in various sizes to decorate your crown. Make sure to cut out slightly larger hearts to go on the top of each "spike" of the crown.
Form your crown by pulling the ends together and connecting them to form a circle. I used tape, but you can use glue or staples if preferred.
Glue or stick the larger hearts onto the peaks around the crown.
Now, use glue or tape to attach the ribbon around the bottom edge of the crown.
Add more hearts around the outside of the crown until you are happy with the look.
Next, you will use a pen or pencil to wrap your pipe cleaners around to create a spiral effect, and then attach another larger heart on the end of each of your pipe cleaners.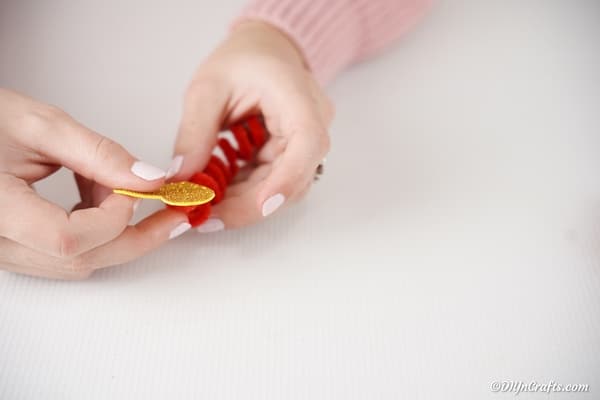 Attach the pipe cleaners onto the inside of your crown on opposite sides.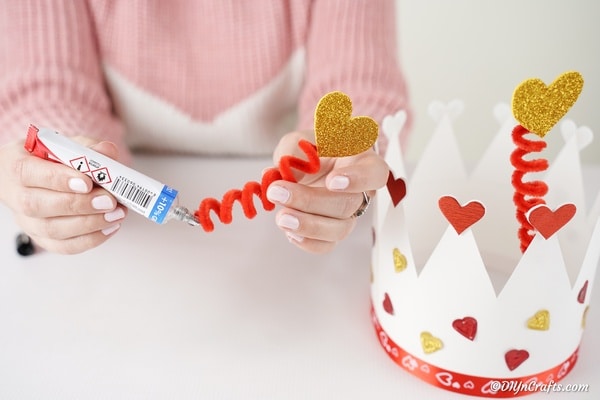 Now, it is ready for you to wear!
Printable Step by Step Tutorial:
Yield: 1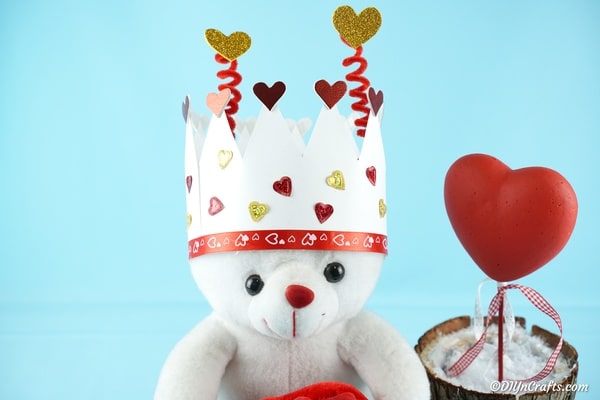 Turn paper into this adorable Valentine's Day paper crown fit for a King or Queen! This simple kids paper craft is a great choice to make together!
Prep Time 5 minutes
Active Time 5 minutes
Total Time 10 minutes
Difficulty Easy
Estimated Cost $1
Materials
White poster board
Pink paper
Gold glitter paper
Red glitter paper
Valentine's themed ribbon
Red pipe cleaners
Tools
Scissors
Craft glue
Black marker
Notes
Use any colors of glitter paper or ribbon you prefer. This paper crown is great for birthday's, parties, or dress up! You don't have to stick with the Valentine theme!
Recommended Products
As an Amazon Associate and member of other affiliate programs, I earn from qualifying purchases.
Related Content