Rustic Old Book Page Snowman Paper Ornament
My obsession with transforming old books into gorgeous crafts continues with this super cute old book page snowman paper ornament. Adding this to your holiday tree just makes sense. The lovely rustic farmhouse style look fits into many Christmas decor themes, and is perfect for customizing! The best part? It's ideal for making with your children!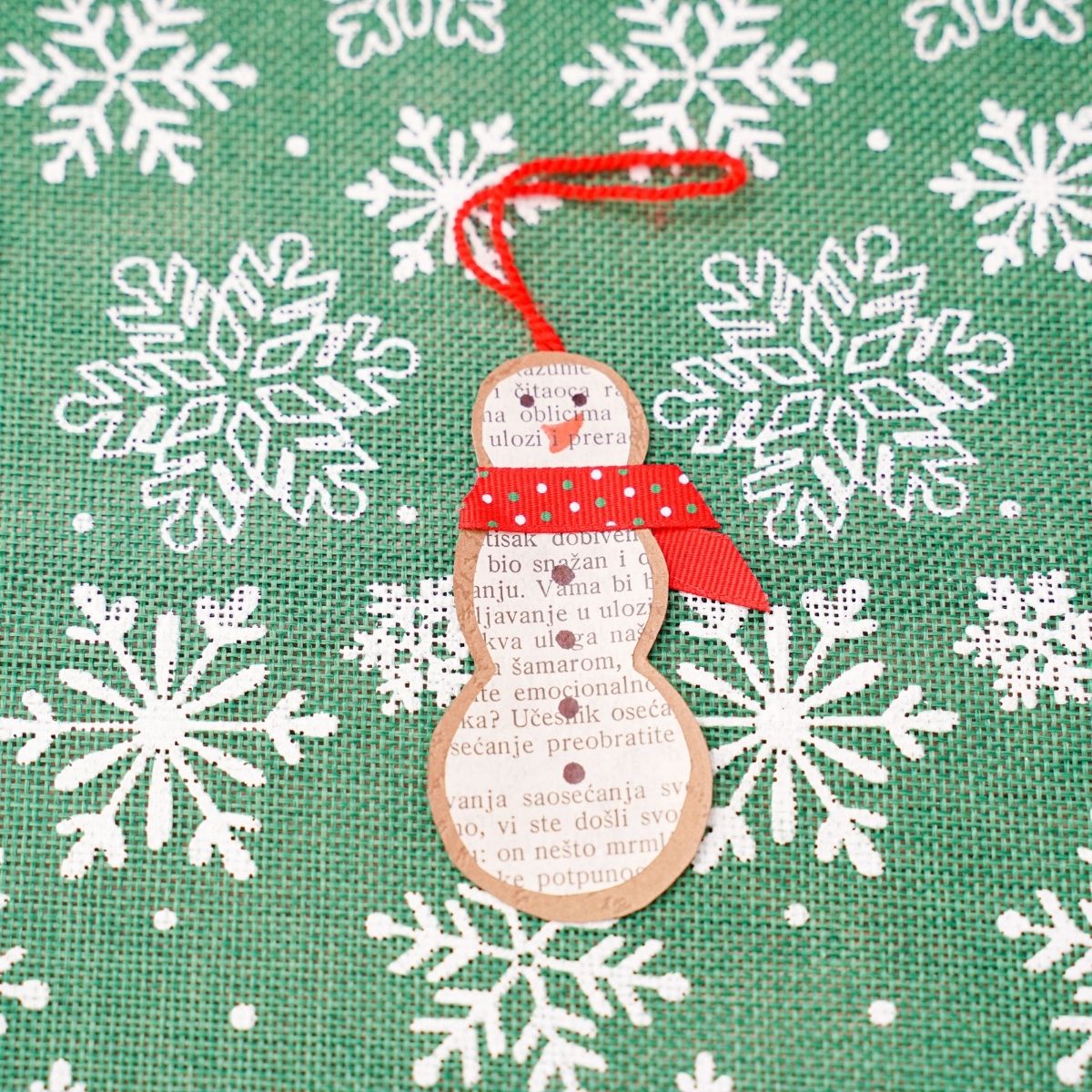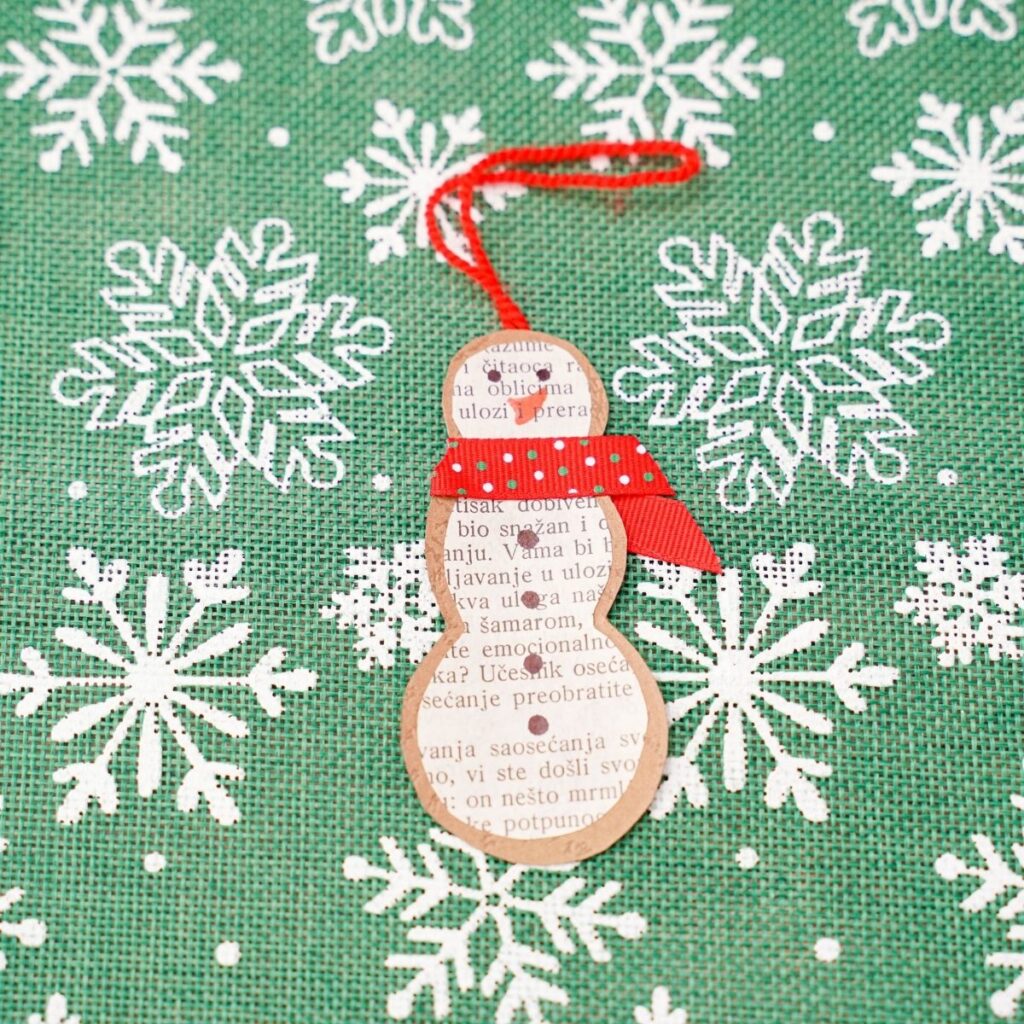 Rustic Old Book Page Snowman Paper Ornament
I love recycling old book pages and creating beautiful crafts with them. This old book page snowman is just one more example of what you can create with this recycled paper. Adding a fun rustic vibe to your holiday tree really brings back the traditional feeling of the holiday season. Being able to easily create a little addition to your tree that fits that farmhouse style you love just makes Christmas even better!
If you are looking for more ways to use up those old book pages, don't worry, I have tons of ideas. For Christmas, you can make these beautiful book page angel wings, a simple book page Christmas angel or this incredible Santa Clause decor from old book pages. There are tons more ideas on my master list of unique old book crafts and decor ideas.
What Should I Use as the Back for this Snowman?
You can use any kind of craft paper or foam for the back of the snowman. Scrapbook paper with a pretty pattern will also work well as a background in place of brown craft paper. I love the idea of using red, green, white, brown, silver, and gold to create a variety that is ideal for decorating around the holiday season.
If you want to make it a bit sturdier, you can even use a piece of cardboard or card stock as the base. I've even used foam craft paper for the backing before with good results. It just depends on what you have on hand.
How Can I Decorate the Snowman?
I like to decorate this snowman simply, with just a scarf made from ribbon. I draw the face on with markers, but you can also cut out the eyes and the nose from construction paper. Googly eyes can be used as well. Glitter can be added to give the snowman paper ornament a look like it is shimmering in the light. Some other ideas below might make your snowman even more unique.
Spray it with glitter spray after you glue the papers together to add sparkle.
Use twine, yarn, fabric, or felt for the scarf.
Add miniature buttons instead of using a marker for the buttons on the body.
Glue on sequins or beads for the buttons on the body.
Use a different color marker or even beads for the eyes.
Glue a small paper top hat to the top of the snowman.
No two snowmen are alike, and that means you can make your own totally unique. Just because I did them a certain way doesn't mean yours have to be identical. You can get creative and make a fun and unique snowman that fits your personality and decor instead!
Do I Have to Use Pages from a Book?
I love the look of the old book page on this ornament. It's a way I can upscale items I have on hand and add some rustic vibes to my holiday decor. That said, you may not want to use an old book, and that is just fine. You can use any color or type of paper you want for this project. I love the two-toned look and think it looks best with dark in the back and light on the front.
If you want the look of book pages but don't have the books, just type up some words and print them onto a piece of cream or beige paper. This will give you the same look without taking a page from an actual book.
Note: While I use old books in many crafts, I never use books that aren't otherwise in good condition and usable. I look for books that are missing pages, water damaged, or unreadable. This way I am recycling something while also making a beautiful craft.
Supplies Needed
How to Make an Old Book Page Snowman Ornament
Using 3 round items in slightly different sizes (graduated), trace the snowman shape onto the brown craft paper.
Cut the snowman out of the paper.
Use the brown snowman to trace the shape onto an old book page.
Cut the snowman from the old book page.
Trim the old book page snowman slightly smaller than the brown paper one.
Glue the book page on top of the brown paper.
Cut and glue a piece of ribbon around the neck of the snowman with glue.
Use a black marker to add eyes to the snowman's head.
Add dots down the center for buttons.
Use a red or orange marker to make a carrot-shaped nose just below the eyes.
Cut a short length of yarn and tie the ends together creating a secure knot. Glue the yarn onto the back of the ornament.
Hang on your tree or as part of your holiday decor!
More Fun Christmas Ornament Ideas
Making your own homemade ornaments is one of the best parts of the holiday season. I really love making items that can be saved for years and handed down to other generations. Below are some great lists of ideas that are perfect for creating this Christmas.
Crafting Tip

If you don't have old books already, check your local library for items they are throwing away, or even local thrift shops for books that are damaged. I also found a lot of old book pages on Etsy that you can buy in bulk. You can also print out pages that are filled with quotes and use those instead to create the same look without using the actual book page.
Yield: 1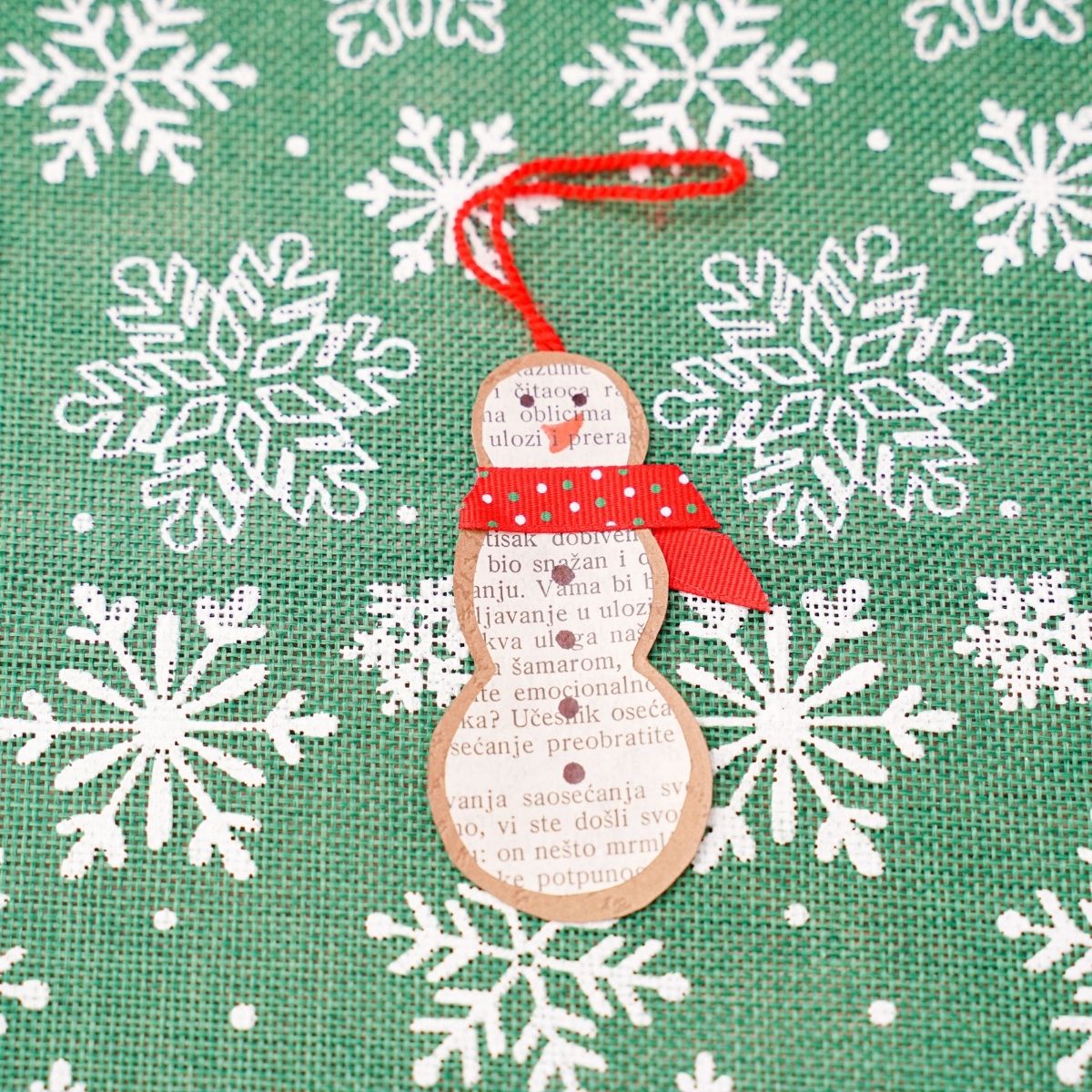 Use an old book and craft paper to create this beautiful old book page snowman paper ornament to hang on your holiday tree this year!
Active Time
10 minutes
Total Time
10 minutes
Difficulty
Easy
Notes
Use any color paper as the background for this snowman ornament.
Recommended Products
As an Amazon Associate and member of other affiliate programs, I earn from qualifying purchases.
This is a great way to use a book that has been torn, water damaged, or has missing pages.
You can also make these with any two colors of paper.
To protect them in long term, you can laminate the ornament.
YouTube Meta: Turn old book pages into a rustic farmhouse style paper snowman ornament for Christmas with this easy to follow tutorial!
Related Content