Simple Smiling Hedgehog Face Preschool Kids Fall Craft
If you are in need of a simple and fun craft for the preschool and younger child age group, then this smiling hedgehog face is it! This cute little kid fall craft idea uses just a few simple supplies and only takes about 10 minutes to make. It's ideal for younger kids with cutting, tracing, and gluing being excellent motor skills to use on this project.
Fake Leaf Hedgehog Face
A happy smiling face that reminds you of a favorite woodland creature is the perfect way to keep little one's happy playing and creating something new. I love this idea for a preschool classroom since you can have all of the supplies laid out in an assembly line for them to just put together. Whether you use this for your own kids or for a classroom project, it is sure to be a favorite fall craft.
And if you have extra artificial leaves leftover after this project, you can use them to make this fall leaf wind catcher, a fall leaf placemat, or even as part of this fall leaf wreath!
What Can I Use for the Hedgehog Nose?
For this example, I used part of a chestnut shell. The idea is to make it look a bit rustic and to match the leaf, so using the shell of a nut or acorn is perfect. Below are a few more ideas that would work for the hedgehog nose if that isn't easy to find.
Pecan, walnut, chestnut, hazelnut, or acorn shell.
Pom pom or small ball of yarn.
Construction paper, craft paper, or felt cut into a circle.
Marker, paint pen or puff paint.
How Can I Hang This Smiling Hedgehog?
This is such a cute idea and is perfect for hanging up as decor around a room. There are other fun ideas that work with displaying this, but I prefer hanging. Below are some ideas for how to hang this from the ceiling or a mantle.
Add a length of clear fishing line, rope, twine, or ribbon to each leaf and attach to the ceiling or mantle with a push pin.
Glue several of these smiling faces onto rope or twine and create a garland for the mantle.
Use an ornament hook to attach to a wreath or holiday treat display.
What Can This Be Used For?
Above are some of the ways you can hang this as decor, but you can use it for more fun projects. Sometimes a craft is just a fun way to keep kids busy and using their motor skills, but that doesn't mean it can't be part of something more. Check out some ideas below.
Hang from the ceiling for decor at a fall-themed party, birthday party, in a kids room, or in a school classroom.
Add to presents during the fall season in place of ribbon.
Attach to the top of pens to keep people from accidentally walking off with your pen.
Add to a fall-themed wreath to give it a fun look and pop of color.
Use as part of place settings for Thanksgiving. They could be attached to napkin rings or be a part of a name card at each place setting.
Have kids create these and be part of a gift to parents.
Glue to craft sticks and turn them into puppets.
What Glue Is Best for Attaching to a Fake Leaf?
My standard glue option is almost always going to be hot glue. If you are working with little kids and don't want to worry about a child being burned, you can use other popular craft glues. A basic craft glue, tacky glue, or wood glue works great. Another option is the popular E6000 craft glue in small amounts.
Can I Use Real Leaves for This Instead?
Sure! Just remember that a real leaf will dry out and become brittle. So, while it may be good for a short time to display but won't be something you can save and use year after year without fear of it crumbling and falling apart when used.
Supplies Needed
How to Make a Fake Leaf Hedgehog Face
Cut a square of yellow craft paper around 4″ wide.
Fold the paper in half, then cut a curved half-moon shape.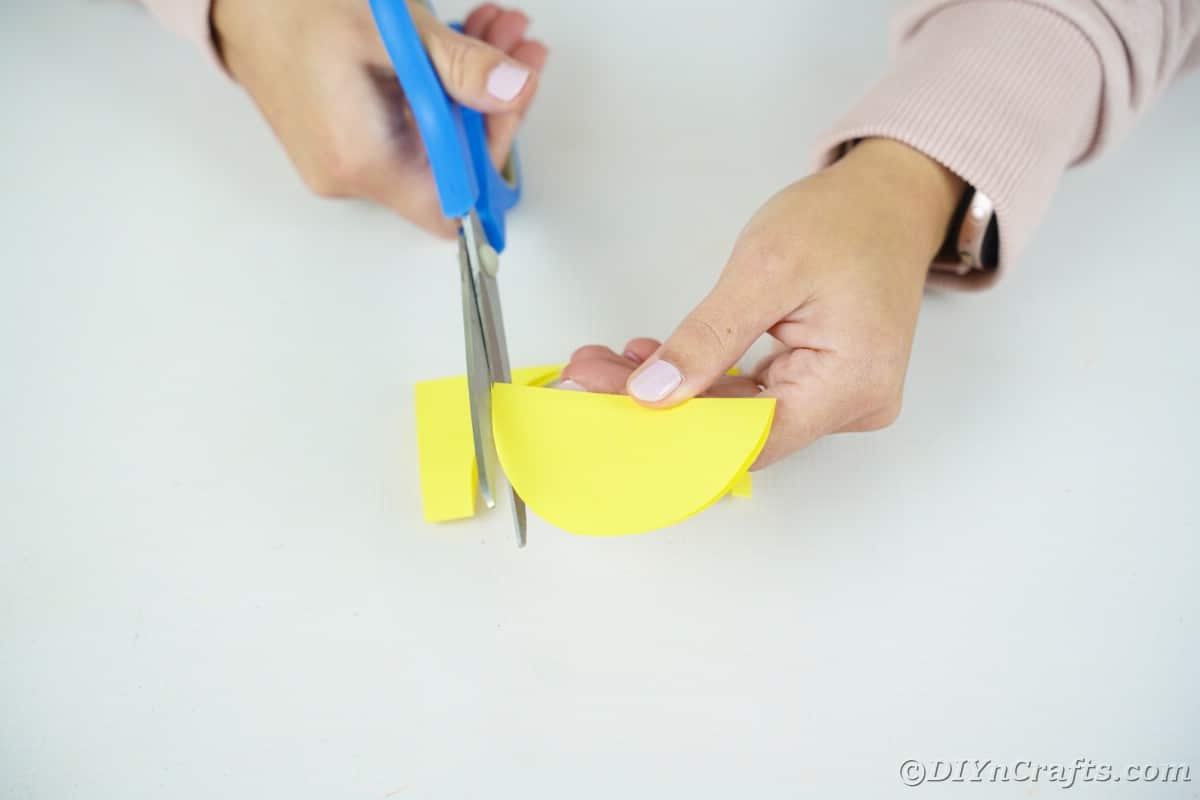 Unfold the paper to create a circle.
Place hot glue on the circle then put the fake leave base in the center and fold half of the circle over each side pressing to secure.
Glue the nutshell toward the bottom of the half-moon and leaf on one side.
Use a marker to draw two dots for eyes and a smile below the nose.
Add a few lines around the top of the yellow face.
Hang, display, or add to a gift!
More Easy Hedgehog Craft Ideas
Want more ideas to decorate with that fit the woodland creature theme? Of course, I have more hedgehog ideas to share! check out some of my favorites on the list below. Whether you need it to be for kids to make or something you can make and display, the list has something for everyone. Just make sure you bookmark, print, or pin these ideas so you have them on hand when ready to get crafting.
Yield: 1
Sometimes all you need is a simple craft! This fake leaf hedgehog face is the perfect fall kids craft that is adorable and easy to make!
Active Time
10 minutes
Total Time
10 minutes
Difficulty
Easy
Estimated Cost
$1
Notes
The face can be made with any color foam paper desired.
Recommended Products
As an Amazon Associate and member of other affiliate programs, I earn from qualifying purchases.
This is an excellent idea to make with preschool kids as a fall craft before Thanksgiving break.
Make a few in different sizes and add to a mantle diorama for a fun and cute little display!