Upcycled Ping Pong Ball Snowman Christmas Ornaments
I'm obsessed with snowmen and this little ping pong ball snowman Christmas ornament idea is super cute. I'm always looking for fun inexpensive ideas to make, and ornaments are a favorite around the holidays. This particular ornament uses one of my favorite craft supplies that was never intended to be a crafting item. Ping pong balls are an amazing choice for crafting, and this just proves it!
Ping Pong Ball Snowman Christmas Ornament
One of the best parts of this craft is that it is so easy for anyone to make, including kids. Plus, you need just a few items, and upcycling is a huge part of this ornament. You can personalize your snowman to resemble yourself, a fun cartoon character, or a basic look to fit your decor. Make a full collection and cover your whole tree with them this Christmas!
I love snowmen so much that I gathered this huge list of snowman crafts perfect for winter. There are tons of ornaments on here, but other fun crafts that are sure to be a hit with you. You might also enjoy just making fun little clay colored ornaments or even these classic cinnamon stick Rudolph ornaments. Christmas is tons of fun and this year you can create a unique ornament for every day.
What Else Can Be Used in Place of Ping Bong Balls?
Any small balls can be used for these snowmen. If you do not have ping pong balls, you can also use golf balls. These are heavier but will still work for the tree. Oftentimes, you can get cheap ping pong like balls at a dollar store or in the toy section at big box stores like Walmart.
Styrofoam balls and wooden beads are other choices that would work well in this ornament, as well. There are tons of ways to make them with anything that is round, including a basic colored glass bulb or traditional round ornament would work.
Fun Ways to Customize Your Snowman Ornament
Customizing these ornaments is a great idea when you are working with kids or doing this in a classroom with little ones. They love making it their own, and of course, having no two alike will give your holiday tree a fun look. Below are a few ideas that you will love adding to your snowman.
Add earmuffs using pom poms and pipe cleaners.
Use googly eyes to give them eyes.
Paint on their faces so they are brighter.
Add different colored eyes.
Glue a scarf on the bottom to hang down from the snowman.
Tuck yarn or felt around the bottle cap top to create hair.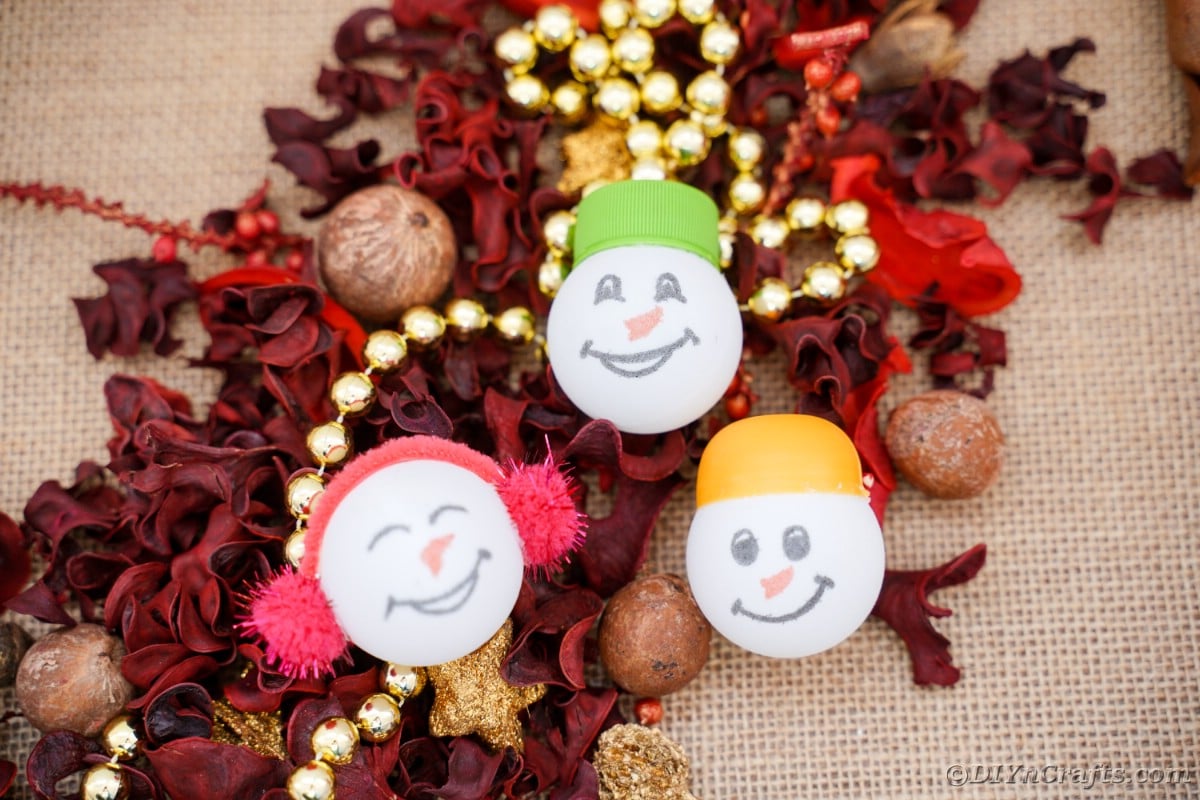 What Can I Use for the Snowman Hat?
As you can see, I grabbed bottle caps and rounded items I could glue on top easily. These are perfect since you may have them on hand already. Of course, you can do other things, and below are some ideas I like that also add to the cute look of the snowman.
Foam paper or felt cut into a hat shape.
Miniature doll hats or doll top hats made for dress up or miniatures.
Cut construction paper into a strip and glue as a hit on top of the ping pong ball.
A pom pom on top can be a fuzzy hat look that is fun.
How Do I Hang These Snowmen?
The easiest way to hang these snowmen is to glue string to the back of the ball. This will let you hang the snowmen without much fuss. You can also create a hole in the ball to hang the pin pong ball snow men.
If you drill/burn a hole in the top of the bottle cap, you can string twine or fishing line through it and glue in place on the underside before you secure it to the top of the ball. This will make it easy to hang so it is straight rather than tilted from hanging on the back.
Supplies Needed
How to Make a Ping Pong Ball Snowman Ornament
Glue a bottle cap onto the top of the ping pong ball.
Once the cap is dry, use black markers to draw on eyes and a mouth.
Add a nose with an orange or red marker.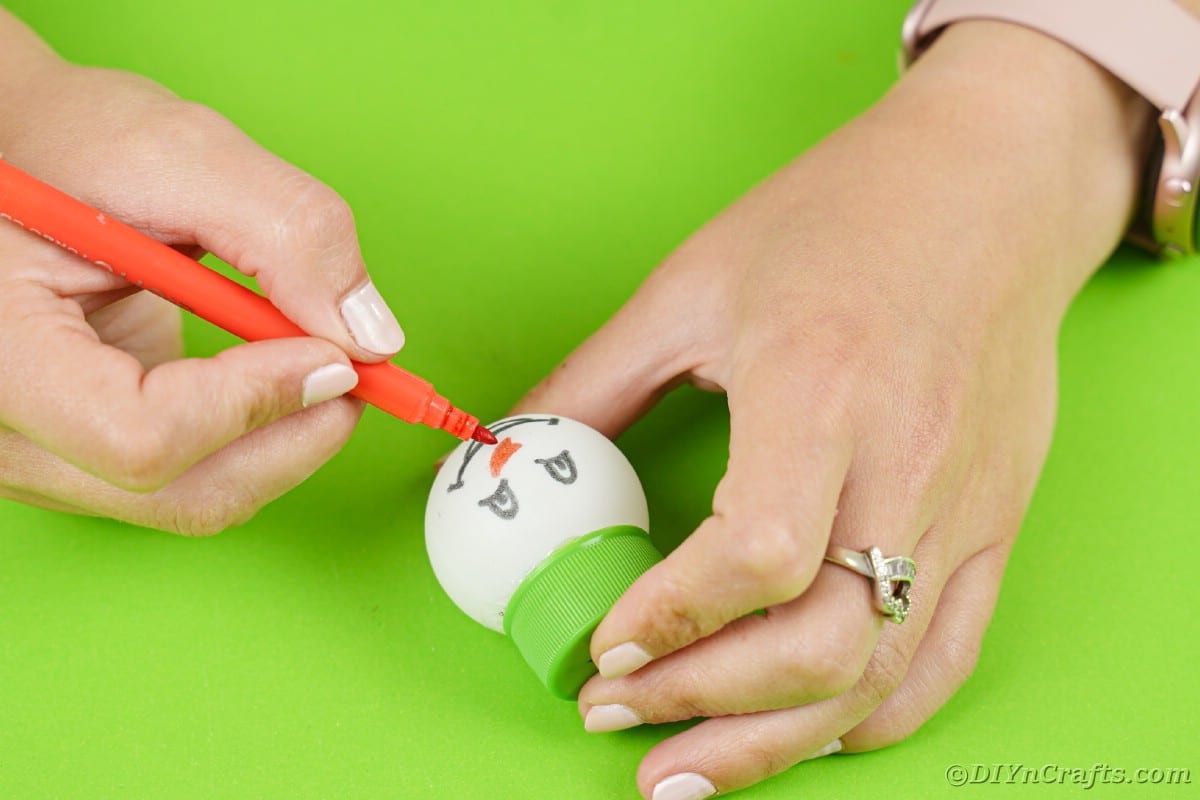 For a snowman with earmuffs, glue a small strip of the pipe cleaner over the top. Add a pom pom on both sides of the pipe cleaner to look like earmuffs.
Add a smile and nose with marker or paint pen.
Customize your snowman and add a length of twine, ribbon, fishing line, or other option to hang from your tree.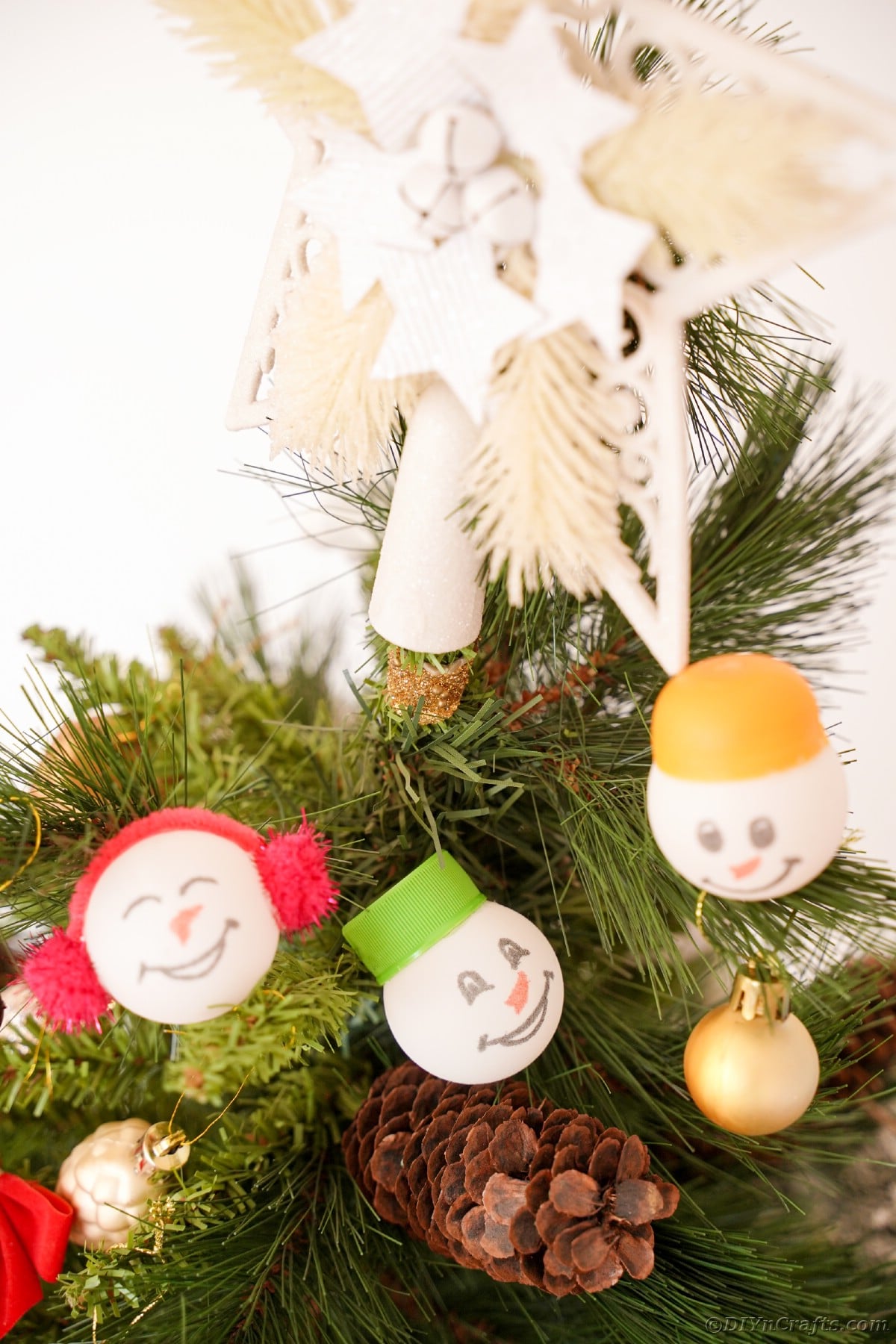 More Fun Ornament Ideas
Ornaments are definitely one of my all-time favorite items to create. This year, you can make a ton of fun and beautiful ornaments on your tree that are all homemade! Below are lists of my favorite types of ornaments and some creative ways to add them to your tree this year. Bookmark and create the ones you love!
Crafting Tip

If you don't drink soft drinks or bottled water so don't have lids on hand, that's okay. I've given you ideas above for making the hats on your snowman, but you can also buy bulk plastic bottle caps on Etsy. Some people collect these and are willing to sell to you for the cost of shipping and a small fee.
Yield: 1
This ping pong ball snowman Christmas ornament idea is super fun and oh, so easy to make! A great kids ornament idea for Christmas!
Active Time
10 minutes
Total Time
10 minutes
Difficulty
Easy
Estimated Cost
$1
Notes
Glue these to a length of twine and create a cute garland for your mantle!
Recommended Products
As an Amazon Associate and member of other affiliate programs, I earn from qualifying purchases.
Use different colors and sizes of bottle caps to create unique hats on each ping pong ball.
You can even make your own hat from paper or felt!
I love adding these to a garland for a fun look on the mantle!
Related Content